April 2012: Montpellier

My first visit to the area of southern France to the west of Marseille took place as a result of the welcome resumption of the FlyerTalk Tour de France series of gastronomy-themed get-togethers, after a gap of a couple of years. Organised by FT contributor chrissxb, assisted by Richelieu, these 'dos' have gained a well-deserved reputation for quality. The latest event was based in Montpellier, but also involved visits to the nearby town of Nîmes and the famous flatlands of the Rhône delta, known as the Camargue. I also took the opportunity to visit Avignon on an independent basis.

Montpellier is the capital of the French region of Languedoc-Roussillon and of the smaller département of Hérault. The city dates from the early middle ages and has much more recently become France's fastest-growing city, although the population is a still relatively modest 250,000. At the time of the reformation, it became a stronghold of the Huguenot protestant movement; these days it is home to significant numbers of ethnic Algerians. As befits such a venerable city, there is an interesting Old Town area consisting of a maze of winding lanes and often steep, narrow streets. The city's modern tram network (above left) makes it particularly easy to get around, although many of the areas of interest to tourists can also be easily reached on foot.
City Centre and Old Town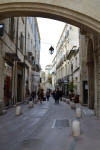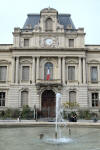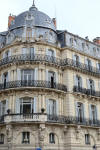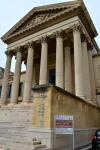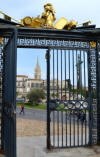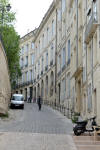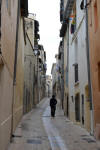 Gourmet Dining
Fabulous dinners have become a normal and much-anticipated feature of Tour de France events, and this one was no exception. The fine dining began on the Friday evening, with an excellent meal in our own private room at Le Petit Jardin in the Old Town.
Kir and apéritif
Saffron risotto with seafood and petit pois
Roasted shoulder of lamb with gnocchi and a piquant olive sauce with piquillo peppers
Lightly glazed strawberries with a vanilla foam and shortbread biscuits
Coffee
However the highlight was the Saturday-night dinner at the Michelin-starred La Réserve Rimbaud, with its attractive riverside setting. Again, we had our own private room.
Les Apéritifs
Croquette de vollaile Rimbaud
Huitres et avocat
Velouté d'asperges et chèvre frais
Fuccacia
A glass of Champagne
Les Plats
Ravioles de foie gras, emincé de canette, consommé gingembre-citronelle
Homard bleu, mangue et avocat, la pince croustillant
Filet de boeuf et steak tartare, queue de boeuf
Ardoise de fromages
Soupe chocolat blanc-coco, minestrone de fruits exotiques
Poire Belle-Hélene
Café et Eaux minérales
Tour de France
(2005: Strasbourg)
(2006: Lyon)
2012: Montpellier
Base : Holiday Inn
Linked reports from same trip :-