October 2019: Lake Como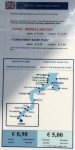 Lake Como (Italian: Lago di Como) is located in the Lombardy (Lombardia) region of Italy. It is the fifth deepest lake in Europe, with the top four all being located in Norway. (A league table of European lakes by surface area would look completely different!) Lake Como is reckoned to be one of the most beautiful lakes in the world, and it has attracted artists as well as the wealthy and glamorous for two millennia. The lake has a distinctive inverted-Y shape, and the three towns at its extremities are Como in the southwest, Lecco in the southeast and Colico in the north.
I only had time to explore the southwestern arm of the lake and was pleased to find that there was a ticket available specifically for this purpose at around EUR25. My main objective was Bellagio, but I also made a brief stop at Moltrasio and a lunch stop at Tremezzo.
Photos
Base: Hotel Como, Como City
October 2019: Lake Como
×