October 2019: Como City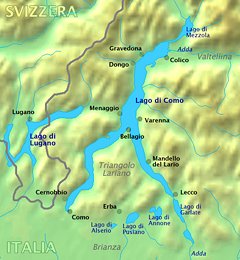 The small cathedral city of Como is situated 44km north of Milan, on the shores of the eponymous lake and a short distance from the southernmost Swiss canton, Italian-speaking Ticino. The lake is shaped like an inverted letter 'Y', and Como City lies at the end of the southwestern branch. Como has good rail connections to Milan, as well as cross-border services to Switzerland.
Formerly a centre of the silk industry, Como's current mainstay is tourism. It makes an ideal base for exploring the lake. Como is also a dormitory town for both Milan and Lugano (CH).
The scientist Alessandro Volta (1745-1827) was born in Como; his name lives on in the SI unit 'volt' and associated words like 'voltage'.
October 2019: Como City
×