The Dingle Peninsula
Knowing that I was in no great rush this morning, I decided to stay in bed until around 7:30. I slowed down even further when I saw that the weather was poor again - this came as a shock because both TV and Internet forecasts had predicted a continuation of Tuesday's lovely conditions. Breakfast at 8:30 was followed by a further period of relaxation in my room, while the heavy rain continued outside.

I left around 10:30, at which time two different online weather services were both telling me that the sun was shining outside. Based on the low-tech alternative of looking out the window, I begged to differ. I filled up the car again to avoid running low in remote areas, and finally pressed on with my planned itinerary for a tour of the Dingle Peninsula, situated directly to the north of the Iveragh Peninsula that had yielded such a wealth of sightseeing opportunities the previous day. Following a similar routine to Tuesday's, I stopped at a number of viewpoints on my way to Dingle town, the first of which turned out to be a beach!
| | |
| --- | --- |
| Dingle lunch stop | |
Dingle town
Dingle, a small town of nearly 2,000 people and the largest settlement on the peninsula, was a colourful place, even in the rain. I had a light lunch in a lovely little bistro, the food consisting of salad with chorizo, pear and goat's cheese on crostini toast.
Coastal loop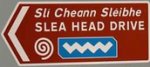 I wanted to do a loop to the tip of the peninsula, based on the circular R559 Slea Head Drive. Little did I realise how delightfully easy this would be. It turned out that the circuit formed a small part of the 2,500km-long Wild Atlantic Way, an official tourist route. As such, all I needed to do was follow the marker signs with the blue and white 'wavy' logo. I made multiple stops and enjoyed some fabulous views, even if the weather was less than ideal.
Conor Pass
But that was to be merely the first of three scenic drives in quick succession. The second involved leaving Dingle town on the R560 (Spa Road) and eventually crossing a ridge of hills using the dramatically scenic Conor Pass. The road, also part of the Wild Atlantic Way, reduced to single track with passing places, then twisted and turned incessantly as I ascended the steep gradient. The views from the summit were wonderful. As I'd had a particularly light lunch, I decided to treat myself to an ice cream cone from a vendor who had taken up a prime position in the summit viewpoint car park.
Brandon Point
My third scenic drive was to Brandon Point, and yet again the route was marked all the way with the Wild Atlantic Way logo.
Onwards to Tralee


With all that successfully completed, I drove on to Tralee and easily found the Rose Hotel, despite some confusion arising from the fact that I had booked the Fels Point and expected to find it in this precise location. Everything became clear when the check-in clerk explained that there had been a change of name. As in several other locations on this trip, I once again had a 'dinner, bed & breakfast' booking, and I enjoyed a very nice evening meal based around a delicious main course of hake.