Kilkenny - Wexford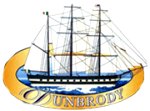 The day got underway with a nice breakfast in the dining room of the Kilkenny Ormonde hotel. I was checked out and on the road shortly after 9am, making the 45-minute drive to the little town of New Ross in County Wexford. New Ross, on the River Barrow, is Ireland's only inland port, and it was visited by President John F Kennedy in 1963. What prompted me to stop here, however, was a visitor attraction: a full-scale, authentic reconstruction of SS Dunbrody, a freight ship that was used to transport emigrants to both Quebec and New York during the 19th-century potato famine.
The replica ship itself and the well presented guided tour vividly brought to life the cramped, basic conditions on board. This was, after all, a freighter that had not been built with passengers in mind. There were two tiny, so-called 'first class' cabins, but even these were extraordinarily spartan, while standard accommodation was grim in the extreme. Ireland's pre-famine population of 8 million suffered a sharp drop to 6 million and has never recovered. Of the two million people that the country lost, half died from malnutrition and half emigrated, principally to North America and Great Britain.
I drove northeastwards for half an hour and came to Enniscorthy, also in County Wexford, which served as a convenient lunch stop. I also had time for a quick look around. Notable sights included Enniscorthy Castle, dating from Norman times, the 19th-century St Aidan's RC Cathedral and the River Slaney.
LEFT to RIGHT:

St Mary's Church, Enniscorthy Castle and (below) River Slaney, the Old Bridge and St Aidan's Cathedral

Taking to the road once again, I followed the N11 southeastwards towards Wexford. I intentionally drove past my next hotel at Ferrycarrig and quickly found the Irish National Heritage Park on the opposite side of the road. After paying my entrance fee and parking the car, I followed the marked trail on foot to see a number of open-air exhibits, starting with Ireland's ancient history. The displays included dwellings, places of worship and burial sites. The ones that I liked best were an early-medieval ring-fort, an early Christian monastery, a Viking boatyard and a Round Tower, built in situ in 1857.
After that, I drove into Wexford city centre for a quick look around, but failed to find anything that really sparked my interest.
ABOVE:

A wonderful dinner at Reeds restaurant, Ferrycarrig Hotel

Finally, I returned to Ferrycarrig and checked into the hotel. I immediately liked the look of this one, due to its picturesque setting on the banks of the River Slaney.
After a spell of relaxation, I went down for dinner, which was included in my rate. I had the choice of using the busy bar or the fine-dining restaurant, Reeds. I chose the latter and enjoyed a quite superb meal, consisting of a small cup of chilled soup served as an amuse bouche, a smoked-mackerel starter, guinea-fowl main course, and finally Tarte Tatin with coffee. Beautiful!