Enniskerry - Glendalough - Kilkenny
My alarm was set for 7:15am and I woke up shortly before it was due to go off, feeling thoroughly refreshed after a quiet and exceptionally comfortable night. Breakfast was really busy, especially with conference attendees. I checked out around 9:15, somewhat sad to be leaving behind this highly distinguished accommodation, the like of which I would not be seeing again on this trip.
Glendalough
I set out for Glendalough, in the Wicklow Mountains, driving most of the way southwestwards on the R755 road. I had stayed here in 1998 on my first visit to the Republic of Ireland, but memories of that trip were starting to become a little vague. It all came back on arrival, though. The Glendalough Hotel was still there and very much in business. Indeed, expansion seemed to be on the agenda, with substantial building work in progress. The weather was very much as forecast: one minute it was bright, then a hefty shower would be whipped up from nowhere, then it was back to bright and sunny again. The two constants were that, whatever else might be happening, it was always windy and cold.
Glendalough was once a more important and substantial centre than the tiny village that we see today. An early monastic settlement was founded in the 6th century by St Kevin. Additionally, a diocese was once based here and consequently Glendalough had a cathedral. Surviving buildings include a notable round tower, together with the ruins of the cathedral and several smaller churches. A sizeable number of young Germans were exploring the site, probably as part of a high-school trip.


I left Glendalough by heading westwards on a steep section of road up into the hills and eventually down the other side towards Hollywood. I drove south for a stretch and then picked up the M9 motorway for most of the remaining journey to Kilkenny (Irish: Cill Chainnigh). I easily found my intended car park directly opposite the Kilkenny Ormonde Hotel and was pleased to be given immediate access to my room, even though it was only 1:15pm. I quickly headed out again and had a rather hurried panini lunch in a little café opposite the Town Hall on Kilkenny's High Street.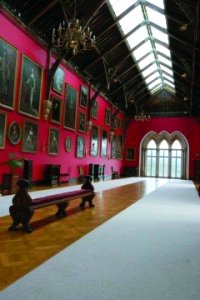 Castle interior (stock photo)
Kilkenny
After lunch, I retraced my steps along the High Street and on into The Parade to my next objective, Kilkenny Castle. Standing in its own grounds adjacent to the River Nore, the castle dates from the late 12th century and was intended to control a fording point on the river. The castle is now in state ownership and is used to display a part of the National Art Gallery's collection.
I briefly walked through the grounds at the front of the building and then hurried inside as another shower got underway. I was pleasantly surprised to find that they were having some kind of 'free day', with normal admission charges waived. I don't know what the reason was for this, but I certainly wasn't arguing! Sadly the castle still operated a blanket ban on photography, a policy that made it look out of touch with modern standards.
After delaying my departure slightly to avoid the worst of another heavy shower, I walked back up the High Street towards St Canice's Cathedral. This is the oldest building in Kilkenny, with the castle coming in second. In fact, the name 'Kilkenny' is a version of 'St Canice'. Dating from the 13th century, the cathedral passed to the Church of Ireland at the Reformation and is particularly noted for the well preserved 9th century round tower that stands directly adjacent. During my short visit, a choir of young people from Georgia, USA were rehearsing for a concert to be given that evening.
ABOVE:

Walking along Kilkenny High Street and on to St Canice's Cathedral
LEFT:

St Mary's RC Cathedral
I made my way back to the hotel by way of St Mary's RC Cathedral. Dating from the 19th century and situated on the highest spot in Kilkenny, this had an imposing external appearance and an impressive sanctuary, but remarkably few side chapels or other points of interest.
I fell asleep for an hour when I got back to my room. Later, I decided on a light and informal evening meal in the hotel bar, consisting of some tasty grilled salmon on a Niçoise salad.