Naval gazing in Norfolk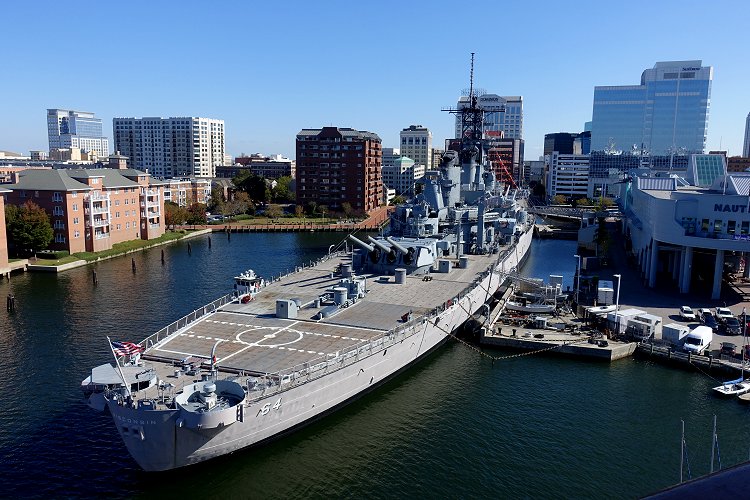 I woke to see that we were sedately making progress into Chesapeake Bay, towards Norfolk, Virginia, home to the largest naval base in the world. After having breakfast at the buffet, we chilled in the cabin until around 1030, when we decided to relocate to one of the open decks. With favourable weather, we remained on deck for arrival and indeed for a further hour or so, to allow the crowds to clear before going ashore. Our ship had docked next to the USS Wisconsin, a former warship now serving as a museum ship as part of the National Maritime Center.
After going ashore and taking a brief stroll, we found Freemasons Abbey, a former church and now a popular restaurant. (It was also the only one of several that we had looked inside thus far and found a normal, mixed-race clientele - a fact that I shall report with no further comment!) We started an excellent lunch with a bowl of she-crab soup each, then split a crab sandwich - so delicious!
Going back outside again, it was a beautifully sunny afternoon, but chillier than I thought it would be in Virginia at this time of year. We spent a further couple of hours strolling around, admiring the Old Town architecture and visiting the MacArthur Memorial, before returning to the ship.
In due course, we had a cocktail in Skywalkers (once again acting as the elite passengers' lounge), before reurning to our cabin for a second movie night of the cruise. Bruce ordered a pizza and I got a hot dog, in both cases washed down with some beer. (It seemed like good home-cinema fare!) First Man turned out to be another great film, which took me right back to the 1969 moon landing, when I was aged 11 and had recently completed my own first voyage on a cruise ship!
03 Nov 2019: Norfolk, Virginia
×