One of cruising's classic greats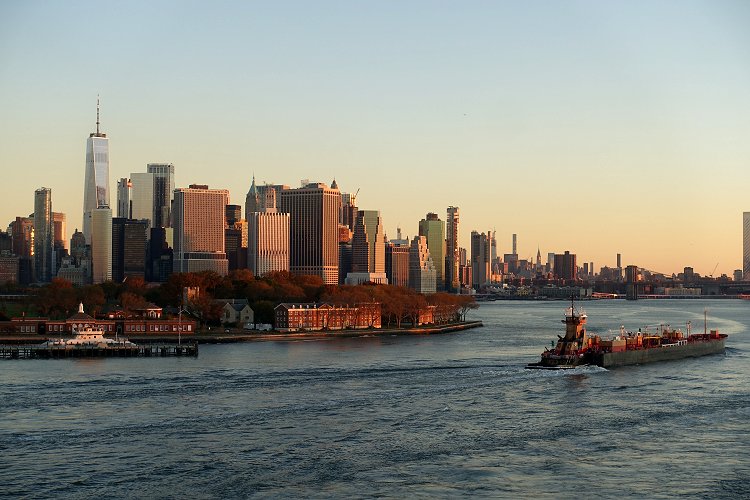 We ordered an in-room breakfast as a means of setting ourselves up for what is, by common consent, one of cruising's greatest experiences: sailing past the Statue of Liberty for arrival in New York. We enjoyed good (if somewhat distant) views of both 'Downtown' Manhattan (i.e. the island's southern tip) and Jersey City, across the Hudson River. It sounds fabulous - and it was, except that our docking area was the Brooklyn Cruise Terminal in Red Hook, a spectacularly inconvenient location in one of the world's greatest cities.
We set out at 0830 through some less-than-desirable streets, heading for the subway station at Smith & 9th. From there, we rode the F line, which gave commendably fast service to 47-50 Streets-Rockefeller Center. After positioning onto Fifth Avenue, we had time for a quick look at the Atlas statue, St Patrick's Cathedral and St Thomas's Church before heading a few blocks north to Dim Sum Palace, on W 56th St. We arrived at 1050 and were the first customers of the day, but the place filled up quickly and became very busy. The dim sum was excellent, my personal favourite - a little surprisingly - being something based on turnip cake! As an added bonus we managed, for once, to order the perfect amount: seven dishes.
After an excellent brunch, we walked up to Central Park in search of autumn colours, but our quest was not entirely successful. We rode the Lexington Avenue subway (also known as the 6 train) from 68th St to 103rd St to visit something that neither of us had been to before: the Museum of the City of New York. Despite its rather imposing and all-embracing title, this gave a marked prominence to various protest movements; but the presentation was well executed and frequently gave cause for reflection.
By the time we were finished there, there was no practical alternative to returning directly to the ship using Lyft. Due to terrible traffic, this took 50mins and set us back USD67. Even so, we only made it back ten minutes prior to the advertised final boarding time - YIKES!!!
Departure took place in bright conditions, although still definitely on the chilly side. We celebrated with Prosecco, guacamole & chips and assorted canapés. After the first five or ten minutes, it became too cold to sit outside, so we popped out when it looked especially interesting, and then retreated to the more comfortable conditions inside our stateroom. From a clear beginning, the daylight was almost gone by the time when the ship sailed under the Verrazzano Narrows Bridge.
Overall, it had been a hugely enjoyable visit to the Big Apple, despite a couple of (linked) negatives:
-
the docking location in Brooklyn was less than ideal;
-
the duration of the visit was too short for one of the world's greatest cities.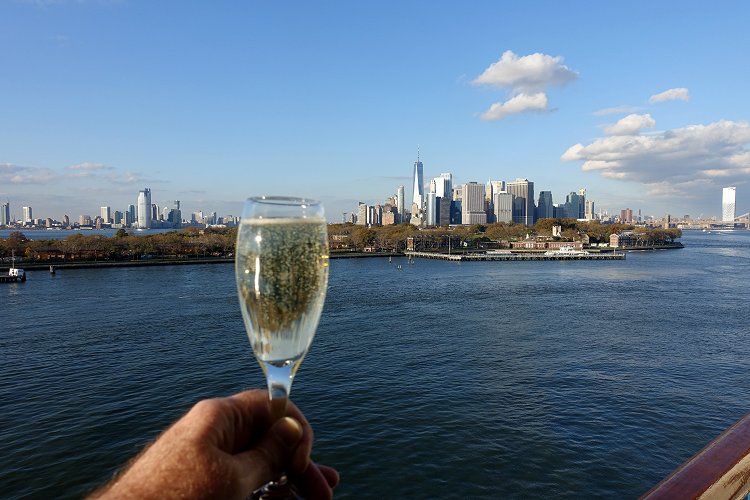 With the departure duly celebrated, it was soon time to focus on the fact that this was the second formal night of the cruise. We had drinks in the Wheelhouse Bar, which was so popular that we could only squeeze in at the bar itself. This was followed by dinner in the Palm dining room. We didn't know it then, but tonight would bring what would go down in my diary as the Great Wine Debacle. It went something like this: ordered 1st choice - huge delay - sorry, not available - ordered 2nd choice - huge delay - sorry, also not available - ordered 3rd choice - moderate delay - halleluja!
With the wine issue finally resolved, I had escargots in garlic sauce, followed by pan-fried rockfish served on potatoes and cabbage. We needed to make a further alteration to our watches before going to bed, and on this occasion it had nothing to do with crossing boundaries. Rather, tonight marked the seasonal end of Daylight Saving Time.