Soggy Boston Halloween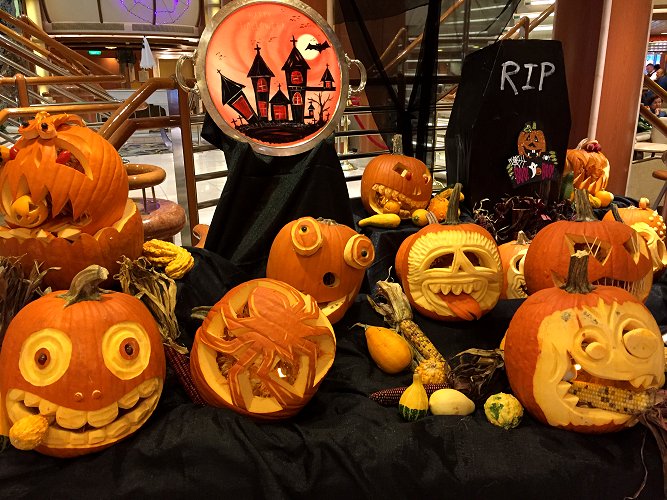 We opened the curtains in our stateroom to watch our 8am arrival into Boston - or at least, into a dismal location on the South Boston waterfront. The weather was dreadful, as mist alternated with heavy rain. Following breakfast and showers, we dressed for the conditions and set off for a day in town. As the rain had stopped when we went ashore, we made the 25-minute walk to South Station, a familiar location close to the InterContinental hotel and the 'Boston Tea Party' tourist attraction. A huge amount of construction work was in evidence along the way. Our objective at South Station was simply to switch to the 'T' (Boston's mass-transit system) to complete our journey to the Museum of Fine Arts, in the Fenway neighbourhood. This required travelling a couple of stops on the Red Line, followed by a longer ride on the tram-operated Green Line. It was all straightforward and in good time, we alighted at the museum, which has its own stop.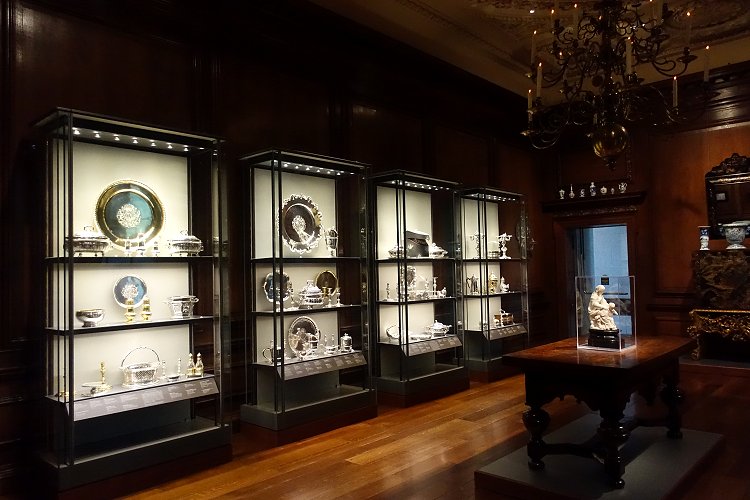 We began what would be a substantial visit by seeing Viewpoints, a photographic exhibit. We then walked in heavy rain to Symphony Sushi for a most enjoyable Japanese lunch. Afterwards, we returned to MFA to see at least some of the other exhibits. I was hugely impressed by the scale of the place, the standard of presentation and the quality of the art collection. One exhibit was sufficiently unexpected to leave me almost speechless: imagine me walking around this American museum, taking in all the paintings and sculptures, and suddenly finding myself standing in the reconstructed dining room of the former Hamilton Palace in Central Scotland! Ancestral seat of the Dukes of Hamilton, the palace was widely acknowledged as one of the grandest country houses in the UK, yet it ended up being demolished in the early 1920s due to a list of serious issues. These included massive debts and subsidence, the latter caused by nearby coal-mining. The dining room - rebuilt in Boston, of all places - is the only surviving remnant.
When we had seen enough, we walked over to Tremont Street for a drink before returning to the ship using Lyft. Later, I had a fish-based dinner in the Palm dining room on Caribbean Princess. Bruce had Sechuan shrimp, which he thought was one of the best shipboard meals he had ever eaten.
31 Oct 2019: Halloween in Boston
×