South of the border: Bar Harbor, ME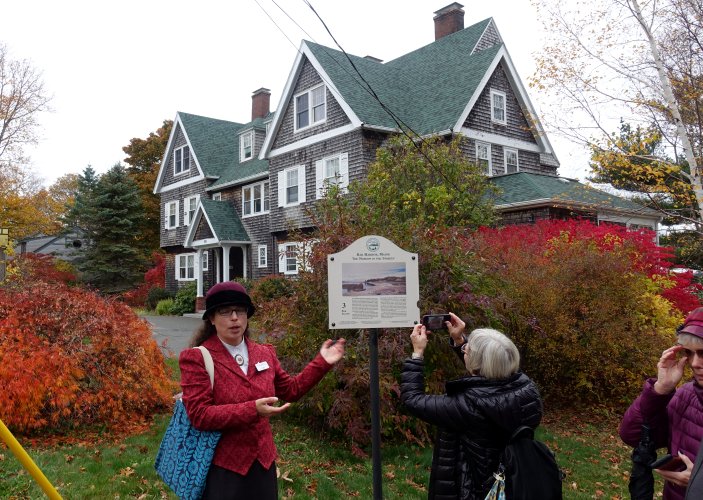 Overnight, Caribbean Princess sailed fewer than 200 miles southwestwards, leaving behind the Canadian province of New Brunswick in favour of the American state of Maine - a new one for me. Our latest destination was Bar Harbor, a small town situated on Mount Desert Island. Astonishingly, this is the second-largest island on the Eastern Seaboard of the United States, despite being only a fraction of the size of Long Island. Mt Desert Island is connected to the mainland by a bridge across the Mt Desert Narrows, this being located in the island's northwestern corner.
Crossing the international border meant that we had to be up and about reasonably early, as Bruce and I had our onboard US Immigration checks scheduled for 0820. We had a buffet breakfast on completion of the formalities, on the basis that we had a historical walking tour booked for 1pm, and would therefore do well to eat now and have something a little more substantial than usual. I ended up having a mixture of omelette, bacon and smoked fish - a little odd, perhaps, but nice! Thereafter, we chilled for a while and we each had a Bloody Caesar (farewell, Canada!) before being tendered ashore.
Once on dry land, we had a quick look around on our own to get our bearings before assembling with the rest of the tour group. Our excellent guide was Lynn, and Bruce recognised her from the last time he took a similar cruise in 2012. We started off by walking westwards along ... erm ... West Street until we got to Bridge Street. This was the location, at appropriately low tides, of a 'land bridge' (causeway) to Bar Island. We then walked southwards for a bit, admiring the New England house styles and eventually emerging onto Mt Desert Street.
Here, we found a cluster of three churches: Holy Redeemer Catholic Church, St Saviour's Episcopal Church and Bar Harbor Congregational Church. Our group visited St Saviour's, which is on the National Register of Historic Places. Built in stages between 1877 and 1938, the church is made of stone and wood and has a traditional cruciform layout. An outstanding feature is the wonderful stained glass, made of Tiffany glass. A notable external feature is the free-standing, ten-bell carillon.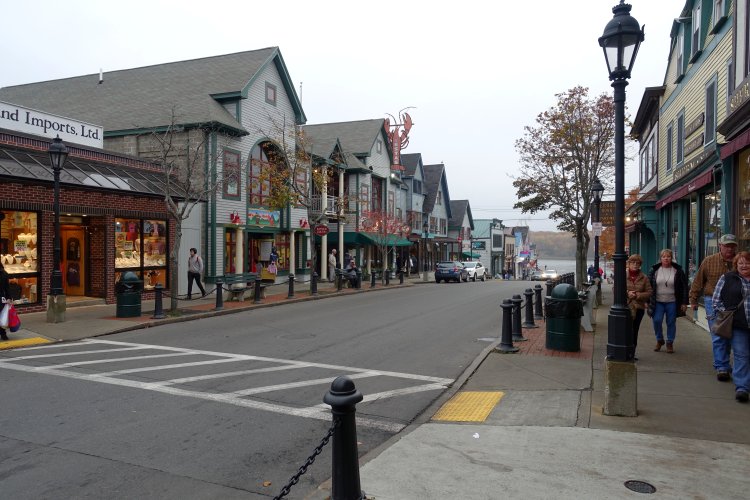 We then proceeded eastwards to Village Green, where the availability of public facilities allowed a 'bathroom break'. The official end point of the walking tour was in Grant Park, which gave good views of the ship at anchor. Bruce and I returned to Village Green and visited Leary's Landing Irish pub. We split a burger, which turned out to be very nice indeed, having been cooked medium-rare in the traditional American way, and served with really tasty blueberry barbecue sauce. The double-cooked salty fries were also excellent.
We wandered back to the seafront, amidst gathering cloud and mist and with the light already beginning to fail. Not long after we got back on board, the captain announced that our scheduled call at Newport, Rhode Island on Friday had been cancelled due to a gale warning. Instead, we would spend the following night tied up in Boston and then head directly to New York City on Friday morning, arriving as scheduled on Saturday morning. As ever with such alterations, it was disappointing, but safety clearly had to be the priority.
Due to our very late lunch, we decided to have a smallish evening meal from the buffet, after enjoying Manhattan cocktails and beef tartare canapés in Skywalkers. It was a good opportunity to reflect on what I thought had been a relatively peaceful, attractive and interesting destination, despite the largely grey and autumnal conditions.