Sydney Pub Tour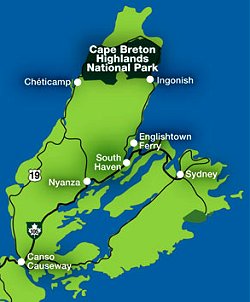 In a move that represented a 'first' for me, we had ordered breakfast to be delivered to our stateroom between 0800 and 0830. As it appeared just two minutes into our 'slot', it was just as well that we had thrown on our bathrobes minutes earlier. Watching our approach to Sydney, Nova Scotia, both out of the window and on the TV 'bridge cam' channel, provided a suitable diversion during breakfast. We opened the balcony door a couple of times and it was distinctly chilly (6C) out there. I was intrigued by this destination as it would be my first time in one of the Canadian maritime provinces, and of course this particular one had a name that meant 'New Scotland'.
Sydney is located inland from the southern part of the east-facing coast of Cape Breton Island. The town is accessed via the Sydney River. It has a population of around 30,000 and is a former city, having gained city status in 1904 and subsequently lost it in 1995. Earlier still, it was once regarded as the capital of Cape Breton Island, until that colony was merged into Nova Scotia in 1820.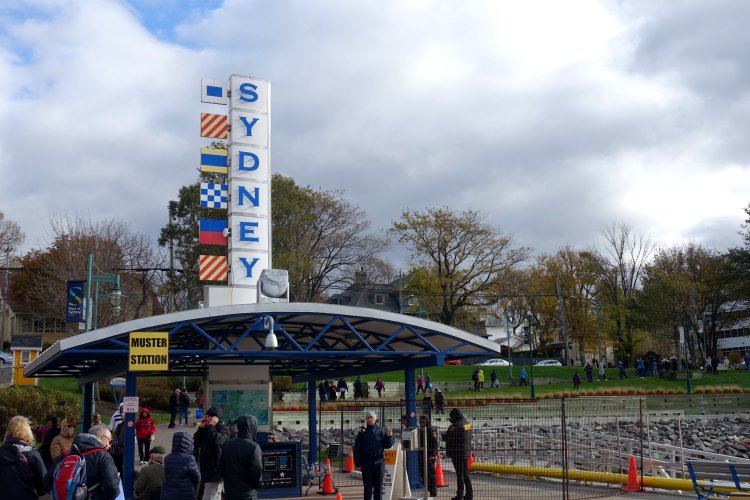 Our only booked activity was a Sydney Pub Tour at 1050, so there was plenty of time for each of us to shower and relax further. In due course, we walked off the ship to the small pier and joined the rest of the group that had booked this popular tour. Our guide Nick was wearing a kilt and soon informed us that more Scottish Gaelic (pronounced 'gah-lic' in Scotland and 'gay-lic' in Ireland) is spoken in Nova Scotia than in Scotland. This didn't really surprise me as in my native land, the language is nowadays confined to the sparsely populated West Highlands and Western Isles, and it only reaches 'majority first language' status in the population of the Outer Hebrides. To the best of my knowledge, Cape Breton Island is the only other place in the world where the language is used.
But back to the tour: the venues called at (and the beers sampled) were as follows:
- Governors (Seven Years IPA; Big Spruce Red Irish)
- Daniel's Alehouse (Rickard's Red)
- The Old Triangle Irish Alehouse (Black Angus IPA)
At venues 2 and 3, we had a good natter with Bill and Beth, a friendly couple from Texas who also described themselves as liberals. I forgot to ask if they were officially recognised on the Endangered Species register!

(Actually, I have been to Austin, so I know that the Lone Star State has at least one liberal oasis.) In due course, we returned to the ship for a light soup-and-sandwich lunch, followed by a snooze.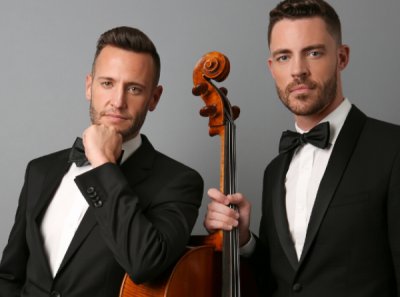 Caribbean Princess left Sydney at 1800, bound for Halifax. This evening's cocktails were at Crooners and dinner was in the Palm dining room. Neither venue was particularly crowded on this occasion. Later, we went to see a very busy show in the Princess Theater. From Bach to Bocelli was a rapid-fire and frequently clever whirlwind tour of musical styles by Branden & James, a well established act in the 'classical crossover' field. Branden is a tenor from the USA and James is a cellist from Australia, but both played piano as well and James joined in some of the singing. All in all, an entertaining performance by two very talented guys.