Mainland Nova Scotia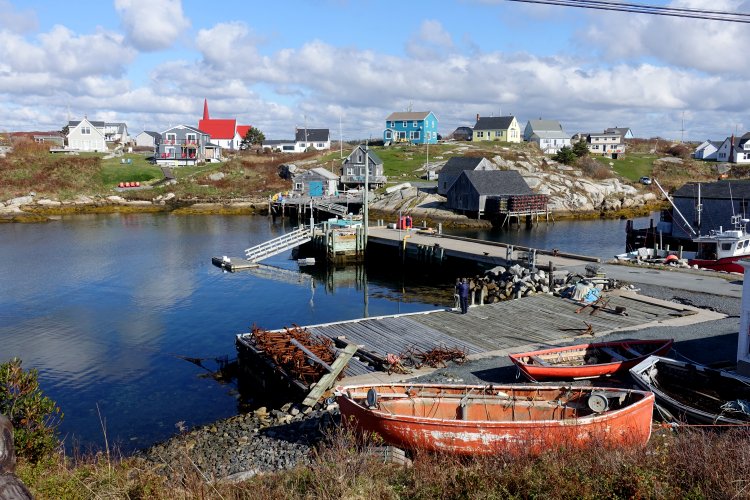 Overnight, we quickly left Cape Breton Island behind and sailed down the southwest-facing coast of the main Nova Scotia peninsula, towards the provincial capital, Halifax. The city is named after the 2nd Earl of Halifax, a British statesman of the Georgian era, who became known as 'father of the colonies'. The present-day population is around 320,000. We arrived to an industrial-looking scene and a very busy port. After turning on the spot, the ship backed into one of the more inconveniently located berths, requiring a short shuttle-bus transfer to the main cruise terminal. As far as I could see, there were four cruise ships arriving this morning.
Bruce had indifferent impressions of the city from his last visit, so as neither of us fancied an organised excursion, we had planned to pick up a rental car for a few hours and see a small part of suburban Halifax and the city's rural hinterland. We walked round to the Via Rail station, found the Enterprise / Alamo office, completed the formalities and were soon in a decent-looking Nissan Sentra. With the help of the sat-nav on Bruce's phone, we initially made our way through some upscale Halifax suburbs to Duncan's Cove and Terence Bay Provincial Wilderness Area. Although this was all very pretty, the roads seemed to be largely screened off, and only occasional glimpses of the views were possible. Additionally, there were remarkably few opportunities to pull over. These factors combined to render this part of the drive photo-free.
We then made for our main objective of Peggy's Cove, looping round via Tantallon in order to be able to follow a good chunk of the St Margaret's Bay coastline. Our first stop, very close to our main destination, was at the Swissair Memorial. On 02 September 1998, Swissair flight 111 (New York JFK - Geneva) came down in the sea 8km from the entrance to St Margaret's Bay, following an on-board fire. All 229 people on board the McDonnell Douglas MD-11 were killed. A second memorial exists at Bayswater, on the opposite side of the bay.
We arrived at Peggy's Cove shortly thereafter to find swarms of people being disgorged from tourist coaches. I dreaded to think what it must be like in summer. The main parking facility was just about the first thing encountered on the access road and the sensible thing to do was to ditch the car and walk the rest of the way. First impressions were that (1) this was a pretty, Nordic-looking village, and (2) despite the tourist numbers, this was very much a working community whose economy relied on a mixture of traditional and more tourist-oriented pursuits.
We had a fairly 'so-so' lunch of seafood chowder in the crowded and pricey tourist restaurant Sou'wester. We were then able to head back to Halifax without backtracking, by simply continuing round the 333 road in the same direction of travel. We returned the car by 1530, half an hour before it was due to be back. We boarded Caribbean Princess and were delighted to find that it was warm enough to enjoy a G&T on our private balcony prior to departure from this port of call. Dinner was in the Palm dining room, and we had a relatively early night.