Mixed-up islands and true mixology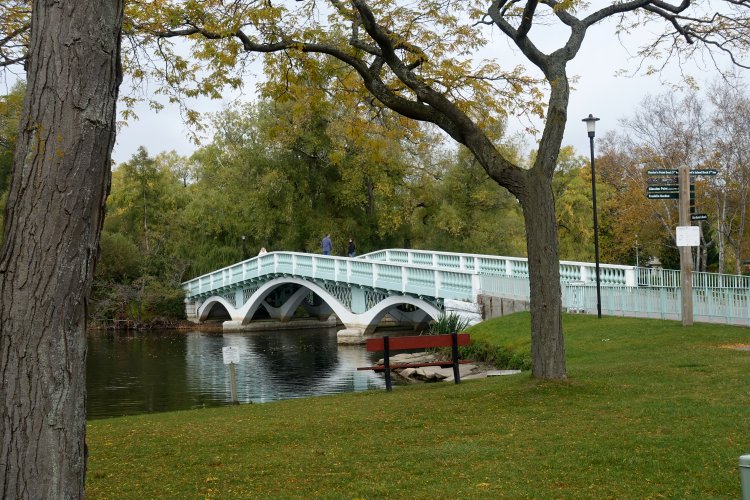 In line with the usual effects of 'westbound' jet-lag, I woke up far too early, at about 4am (9am in the UK). Needless to say, I didn't get up at this point. At a far more reasonable hour by local standards, we had breakfast at a branch of Tim Horton's, just across the street from the Westin. It wasn't particularly memorable, except for being beyond doubt, an authentic Canadian experience.
Bruce was going to be working during our joint time in Toronto, so I would be doing the greater part of my sightseeing alone. For him, it would be a relatively unusual experience to be on standard hours, as Toronto is in the same time zone as his firm's office in Massachusetts. It was a bright, reasonably sunny morning and I was keen to get started.
First up was a return visit to the Toronto Islands, a series of small, interconnected islands located a short distance from the city in Lake Ontario. The ferry terminal was conveniently situated just below our room. It turned out that today was the first day of the winter schedule, bringing a dramatic reduction in service provision. As recently as the previous day, passenger ferries had been plying routes to Centre Island Ferry Dock and Hanlon's Point, while a small vehicle ferry provided service to Ward's Island. Today, the passenger-only routes had ceased and only the Ward's Island service was available. I made the ten-minute crossing and set out to see how much I could do on foot.
Confusion in the Islands
Before we go any further, let's try to clear up some confusing aspects of these islands:
1.
The group as a whole is known as the 'Toronto Islands'.
2.
The large, crescent-shaped island which almost wraps itself around the others has traditionally been known as Centre Island. It is not in the centre, but rather on the southern edge.
3.
Ward's Island technically does not exist as an island. It is the name given to the eastern, residential extremity of Centre Island.
4.
The most centrally placed island is called Middle Island, which is reasonable enough.
5.
Middle Island contains Centre Island Ferry Dock, which is not at all reasonable, although arriving passengers can access Centre Island by taking a short walk and crossing Centre Island Bridge.
6.
Because of (5) above, many people think that Middle Island is Centre Island. It isn't.
7.
In an attempt to reduce confusion, attempts have been made to rename Centre Island as Toronto Island, a name which is alarmingly similar to that of the group as a whole - see (1) above. Arguably, confusion has actually increased as a result.
Okay, got it?

Dodgy nomenclature aside, it turned out that almost everything was closed, with quite a bit of low-season maintenance work already underway. Even unlocked toilet facilities were few and far between, yet the place was busy enough with visitors. But it was a lovely morning and I enjoyed exploring. I made it to Centre Island Bridge and was briefly on Middle Island before deciding to turn back.
I found an eatery beside the Ward's Island ferry terminal. It turned out that this was its final day of operation for 2019. It seemed odd that its schedule wasn't aligned with the ferries, but I sooned realised that they had abandoned the menu and it was a case of: "Here's what we're able to offer you on this, our last day". They were basically using up their leftover supplies, and who can blame them for that? And besides, I was hungry and there was nothing else! After lunch, I returned to the Westin and had a couple of hours' rest while Bruce finished work for the day.
We started our evening with a visit to the Brookfield Place complex between Bay and Yonge, to see a 'Press Photography' exhibit. I immediately recognised the hugely impressive atrium from my 2011 visit to Toronto, during which I had come here to pick up an Avis rental car. This evening's exhibition turned out to be a fabulous display inside an amazing space; in short, it was immensely enjoyable.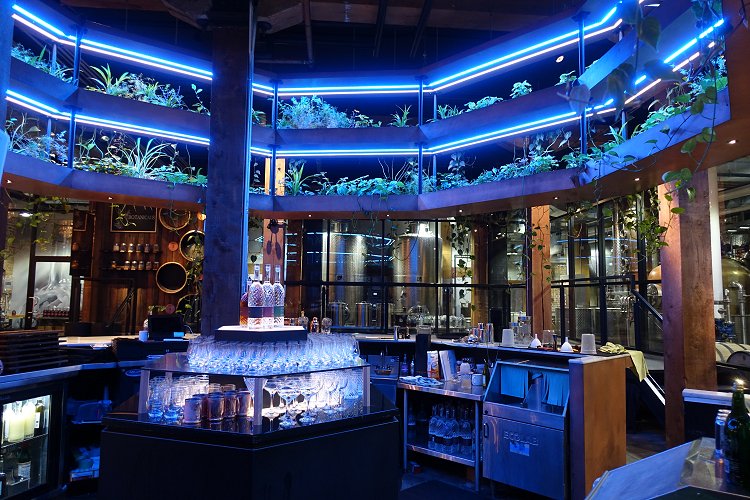 We continued walking eastwards, passing the 'dog fountain' and Toronto's very own Flatiron Building, and soon reached the Distillery District. This is a new city quarter based on buildings of the former Gooderham & Worts distillery. We found a fabulous cocktail bar, Spirit of York, and somehow managed to end up having three rounds. Two of these were 'custom', that is, invented by the excellent young barman / mixologist, based on some high-level guidelines supplied by ourselves.
In due course, we stopped for a gourmet burger on the walk back to base, completing an excellent first evening out in our latest city destination.