May 2019: Santiago de Compostela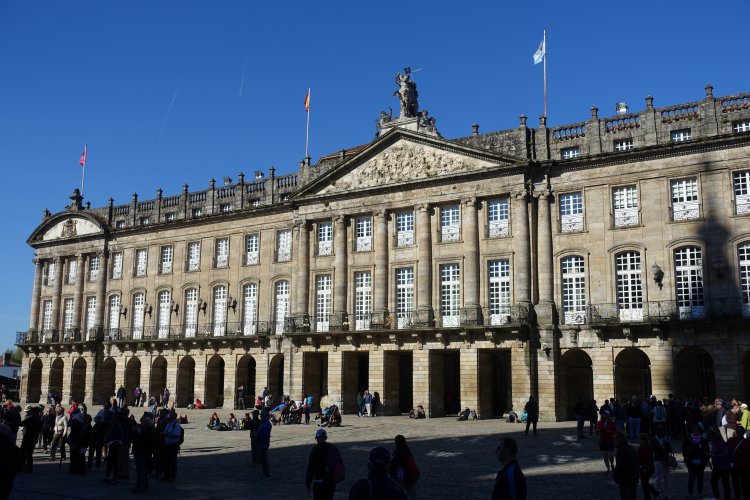 This was another visit undertaken in connection with the Iberia promotion of summer 2018, and in this case, a new destination for me. Santiago de Compostela is situated roughly midway between the ports of Vigo and A Coruña in the northwest corner of Spain, directly north of Portugal. This small city of less than 100,000 people, in an attractive rural setting, is the capital of the Spanish autonomous community of Galicia. The city's 'old town' has been a UNESCO World Heritage Site since 1985.
The principal attraction is the cathedral, which according to tradition contains the remains of St James the Great, one of the Twelve Apostles and patron saint of Spain. This is why Santiago de Compostela has for centuries been a major place of pilgrimage, and why it is the end point of the Camino de Santiago ('Way of St James'), a walking route that stretches across the whole of Northern Spain and beyond. Sadly, the cathedral was undergoing massive internal restoration during my visit. It was possible to walk inside on a limited and carefully demarcated route, but the interior had been stripped of many of its attractive features, and those that remained were obscured by scaffolding. In short, it resembled a building site.
On a more quirky note, the cathedral is - in more normal times - home to the Botafumeiro, believed to be the world's largest thurible (or 'swinging censer'). Normal-sized, hand-held examples are in regular use in Catholic, Orthodox and Anglican churches around the world, but the Botafumeiro (or one of its various stand-ins) is suspended from high above the cathedral's 'crossing' point and set in motion by a team of eight burly men. (See YouTube for a demonstration, if you are curious - apart from anything else, the technique used would make an excellent case study in Physics!)
Please note that on this page (and in the photo captions especially) I have given local place names in the Galician language, which is closer to Portuguese than Spanish.
Photos
Other Spanish destinations in 2019:
Madrid (Feb/Mar)
Seville (May)
May 2019: Santiago de Compostela
×