June 2016: Graz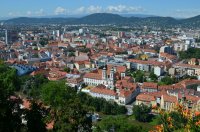 Graz from the Schloßberg - see below
Graz, with a population of 280,000, is Austria's second-largest city. Situated in the southeast of the country approximately 2hrs30mins from Vienna by train, it is the capital of the Austrian federal state of Styria (German: Steiermark). The city's Old Town area was inscribed as a UNESCO World Heritage Site in 1999. Perhaps surprisingly, given my many visits to Austria's beautiful capital, this was the first time that I had made the journey south to Graz.
City Centre / Old Town
Notable landmarks of the 'old town' district include the town hall, federal state parliament, cathedral, opera house, theatre, and several museums and art galleries.
Schloßberg
The Schloßberg ('Castle Hill') towers above the city centre. Although the castle itself was largely demolished over 200 years ago, an outstanding remnant is the Uhrturm (or clock tower), an iconic symbol of Graz. The best way to reach the summit is by funicular railway, although a comparatively boring alternative exists in the form of a walk through a tunnel followed by a vertical ascent in a conventional lift.
Schloss Eggenberg
This is a stunning Baroque palace situated in equally impressive grounds on the western edges of Graz. The site is easily reached by tram route 1. I was lucky enough to be the only guest on my tour of the interior.
Base: Mercure Graz City
Linked reports from same trip: