August 2013: Geirangerfjord by Hurtigruten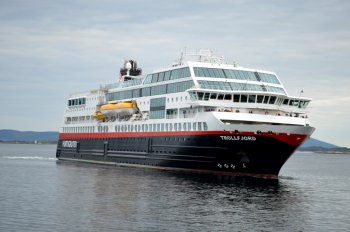 ABOVE:
MS Trollfjord arrives at Ålesund. The grey conditions
would soon disappear.
Hurtigruten is the name of the coastal shipping company established by the Norwegian government in 1893 to operate a service from Norway's second city, Bergen, via multiple stops to Kirkenes, close to the country's short border with Russia. The name is still frequently (and rather quaintly) rendered in English as 'Norwegian coastal steamer', even though most of the vessels now resemble mini-liners. In fact hurtig ruten simply means 'fast route' and derives from the fact that many of the connections introduced would have been far longer and much more difficult if undertaken by road. Albeit to a lesser extent than 120 years ago, this is probably still true on parts of the network today.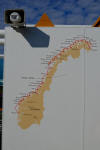 Impressively, the service operates daily all year round, northbound and southbound. Each ship takes approximately a week to complete a one-way trip, in the process visiting 35 ports at all hours of the day and night. During the summer season, northbound journeys take a nine-hour diversion at Ålesund to sail into the Geirangerfjord, which has been awarded UNESCO World Heritage Site status purely on the strength of its outstanding natural beauty. This diversion provided a perfect opportunity to sample not only some of the finest scenery in Norway, but also the Hurtigruten experience.

My ship turned out to be the rather magnificent MS Trollfjord, built in 2002. It didn't take me long to realise that I now want to make the full Bergen-Kirkenes trip at some stage - the list just grows and grows! Thinking that it would add variety to the day as well as keeping costs under control, I decided to book a one-way ticket to Geiranger and return to Ålesund by bus. In the event, it turned out to be a bit of a wrench when I realised that it was time to go ashore and watch my ship sailing off into the distance without me!
Geiranger and return journey
Ships of the fleet
Arrival of the Hurtigruten is something of an event in each port, for tourists and locals alike. My few days in Ålesund gave me the chance to see a few of MS Trollfjord's sister ships. These included the heritage vessel MS Lofoten, built in 1964, which really did look like a coastal steamer!
Base: Radisson Blu, Ålesund
Linked report from same trip: