August 2013: Ålesund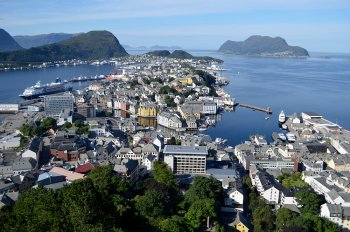 ABOVE: Classic view of Ålesund from the Fjellstua viewpoint on Aksla hill
The little city of Ålesund is a Norwegian seaport and fishing base, lying 160 miles north and a little east of Bergen, as the crow flies. That the same journey would be nearer 260 miles by road says much about the landscape in this part of the world. Ålesund enjoys a spectacular location on a string of islands stretching out from the coastline, as a result of which you are never far from the water. The city is a calling point for the famous Hurtigruten ships on both northbound and southbound journeys. During summer, the northbound ships divert via the Geirangerfjord, providing what must be one of the most stunningly scenic day trips in the world (see link in side panel).
There are plenty of other sightseeing options available, both by car and by public transport, but one of the attractions of Ålesund is that it is not just a wonderful base for these wider explorations; it also happens to be interesting and attractive in its own right. The city centre was completely destroyed in a catastrophic fire during the night of 23 January 1904. Within a few years, it had risen again with a new appearance based on the prevailing architectural style of the time, Art Nouveau (also known as Jugendstil). The 1900s look survives to this day.
ABOUT THAT NAME ...
It's pronounced OL-le-soond. Anything that comes out sounding like 'Alison' just isn't right. Some Norwegians don't sound the final 'd', but the locals definitely do.
The initial letter is the 29th and last in the Norwegian alphabet, coming after Z,

Æ and Ø

. Expect to find Ålesund near the end of a list of place names in Norway.
If the character 'Å' isn't available it may be written as 'Aa', although this is usually regarded as old-fashioned.
Northern Islands Catamaran Tour
I spent a good part of Sunday afternoon on board a public transport catamaran providing passenger service to the so-called Northern Islands, to the northwest of Ålesund. The round trip provided an opportunity to see something of life in the more isolated parts of the region, and to sample more of the great natural beauty in which people in these parts live. Despite the strong August sunshine, it certainly wasn't a particularly warming experience on the open top deck!
More views from Aksla hill
For anyone able to attempt the 418 steps to Fjellstua, the views are breathtaking - possibly in more ways than one!
Base: Radisson Blu
Linked report from same trip: