Close encounters of the volcanic kind
ABOVE:

Early-morning arrival into Muroran
A wake-up call at 6am ensured that we would be ready in good time for the early start of today's shore excursion, which we had booked in advance. The ship's log would later show that we had travelled just 92 nautical miles (106 land miles) overnight, passing Shiokubi Point and rounding Cape Esan before crossing the mouth of Uchiura Bay to our destination, Muroran. The ship embarked a local pilot at 0612 and all lines were secured to our berth by 7 o'clock. Meanwhile, we wasted no time in getting on with our own morning routine, repeating the previous day's successful coffee-shop breakfast before meeting on the dockside at the designated time of 0750, ready for a prompt departure ten minutes later for the volcanic region of Lake Toya and Mount Usu, part of the wider Shikotsu-Toya National Park. There were only 14 passengers on the English-speaking tour, so it was nice to be able to spread out on the bus.
ABOVE:

Witnessing recent destruction caused by earthquake and volcanic eruption
Our first stop, around 45 minutes' driving time from the ship, provided an opportunity to see the results of Mount Usu's latest activity, in the year 2000. Four days' worth of earthquakes preceded an eruption that went on for five months, causing massive damage to buildings and roads, but thankfully no casualties. We were able to make use of a boardwalk that had been built alongside a former highway that had been destroyed at this time. The road surface was cracked, rippled and had generally been thrown around by the massive natural forces. It was strange to see the occasional road sign sticking out of new vegetation growth!
ABOVE:

Lake Toya and Nakajima Island
The tour proceeded to our second stop at picturesque Lake Toya, and in doing so moved us on from surveying evidence of a recent eruption to witnessing the aftermath of ancient volcanic activity. Lake Toya is a caldera lake that was formed after a massive eruption 110,000 years ago. Much later, around 50,000 years ago, a further series of eruptions created Nakajima Island in the centre of the lake. We sailed out to the island on a tacky 'floating castle' boat that looked as though it had escaped from Disneyland. Nakajima itself was a pleasant, quiet place. We decided to skip the planned forest walk, preferring to stay close to the pier and simply enjoy the views, which to me were vaguely reminiscent of the less mountainous parts of Switzerland.
LEFT:

Another picture-perfect lunch

RIGHT:

Just as well I don't tend to suffer from a sense of foreboding
In due course, the same vessel took us back to the bus and it was just a short drive from there to the base station for the Mount Usu cable car. As the bus entered the parking area, we drove right past Showa-shinzan, a spectacular reddish-coloured lava dome created by the 1944/5 eruption of Mount Usu, which can still be seen to emit clouds of steam. Before boarding the cable car, the group had a tasty and attractive lunch in a section of a local restaurant; it was much better than I had dared to expect on such a tour. Over lunch we got talking to a young man called Rich who hailed from Newcastle and was one of the musicians employed on Sun Princess. It was fascinating to hear his perspective on life aboard a cruise liner. Like many other crew members that we had spoken to, he was keenly looking forward to the ship's imminent relocation to Australia.
Our group took the 1pm cable car to the summit of Mount Usu. There was a good viewpoint adjacent to the upper station, from which Showa-shinzan and Lake Toya could be seen, but the absolute highlight required a short walk and climb to an amazing panoramic viewpoint covering nearly 360 degrees.
ABOVE:

Taking in the panorama from the summit of Mount Usu
Most people were dozing on the bus back to Muroran, so our tour guide didn't get much of a response to her continuing efforts. We arrived back at the Sun Princess just after 3pm to find a school band getting set up to provide our send-off. It was a good opportunity to take some photos of the ship from the dockside.
LEFT:

Back to the ship for some afternoon refreshment

RIGHT:

Departure celebrations in full swing
Once back on board, an afternoon refreshment by the pool seemed in order. We then watched the farewell ceremony from our balcony, together with the departure procedure itself, up to the point where the pilots were off-loaded.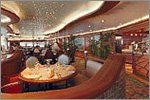 This was one of two formal nights in the dining room, and it was preceded by the captain's champagne party. It was my first time wearing a tie in well over a year! The experience in the dining room was exactly the same as the previous evening, except for the different dress code. I had another enjoyable evening meal, consisting of cheese tortellini, a classic duck à l'orange main course and a selection of cheeses. Tonight, our chosen wine was a most agreeable Californian Zinfandel.
Following dinner, and knowing that there was no reason to be up early the next morning, we made a much more leisurely tour of various night spots around the ship: all dressed up and lots of places to go!