Exploring Hakodate
ABOVE:

A beautiful morning, with Sun Princess already docked in Hakodate

We got up around 0745 to find ourselves in Hakodate Harbour on an absolutely gorgeous Sunday morning. The port side of Sun Princess was already secured against the dockside, but for us on the opposite side of the ship, we could just as easily have been at anchor in the middle of the bay. The blue sky and fluffy white clouds, the sight of ferries and other vessels gliding sedately across the water with green hills crisply outlined in the background, all made for a pleasing sight to wake up to and offered the promise of a fine day lying ahead.
Since leaving Otaru, we had sailed 222 nautical miles (approximately 255 land miles, or 408 kilometres), first rounding the Shakotan Peninsula to take up a more southerly course, then passing Cape Shirakami to sail up the Tsugaru Strait, which separates Hokkaido and Honshu. According to the ship's log, we had tied up in Hakodate at 0638 that morning. From what I had read in advance, this destination held out the promise of a beautiful setting combined with an interesting cityscape, the latter influenced by the fact that Hakodate was one of the first Japanese cities to be opened up to foreigners in the mid-nineteenth century. And indeed a second 'opening up' was now eagerly anticipated: Hakodate was preparing to be linked to the Shinkansen network via a new tunnel under the Tsugaru Strait, in a project that would eventually see bullet trains running all the way to Sapporo.
It was time for the all-important first meal of the day, and I was happy to follow Bruce's lead and avoid the main breakfast buffet in favour of a coffee-shop alternative comprising yoghurt with granola, an English muffin with egg and a properly made caffè latte. When we were ready to set off for a day in town, we managed to just miss a shuttle bus. Rather than wait for the next one, we took a local taxi to Hakodate Morning Market. We had an enjoyable look around this bustling location covering four city blocks, where the specialities were eel, crab, scallops, salmon roe and other local seafood. Many of the small and unpretentious eateries within the market had substantial queues of local people waiting to have breakfast.
It was then an easy matter to locate the city tramway and to ride a busy car three stops along the line to Jujigai, nearest stop to the base station of the Mount Hakodate cable car. Thankfully the queues there were fairly minimal and we were soon heading for the summit, enjoying the unfolding views as the suspended car slowly and smoothly made its ascent.
LEFT:

We used two local transport modes to reach the summit of Mount Hakodate
ABOVE:

Panoramic views from Mount Hakodate, including (left) Sun Princess and a landing airliner, and (right) the Christian churches of Motomachi
The viewpoints at the top gave a wonderful panorama across the city and port, with Hakodate Bay on one side and the coast of the Kameda Peninsula to the other. The surrounding countryside and distant hills completed the picture, along with a sky that was cloudy enough to enhance the overall scene. An element of added interest was provided by a wide-bodied jet making its approach into the local airport.
ABOVE:

St John's Episcopal Church
Having returned to the base station, our next objective was the nearby district of Motomachi, noted for its Western architecture and in particular for a cluster of Christian churches. As mentioned above, Hakodate was one of the first Japanese cities in this previously closed society to become accessible to foreigners, following the signing of various international treaties in the 1850s. It didn't take long for Americans and Europeans to make their mark. The first building that we visited was the Episcopal church, with its ultra-modern take on the traditional cruciform layout. It had a busy flea market in progress in its grounds. The very friendly Japanese rector spotted us and came over to say hello and have a chat, explaining that the purpose of the sale was to raise money both for the church and for local charities. We learned that 0.8% of the Japanese population is Christian and that this church had 170 parishioners on its register.
The nearby Russian Orthodox church was more traditionally styled and most attractive, while the Roman Catholic church had a Gothic-inspired design dating from 1924, which we thought looked better from a distance than it did at close quarters. Other attractions in the district included the Old British Consulate, Motomachi Park, the former Branch Office of the Hokkaido Government and the Old Public Hall.
LEFT:

Hakodate Orthodox Church and the view from its grounds
L to R:


Old Public Hall;
Former Hokkaido Gov't Office;
Old British Consulate
LEFT:

Streets of Motomachi
From Motomachi, we walked downhill into Kanemori, often referred to as the Red Brick Warehouse District. Constructed in 1909, these warehouses are a visual legacy of Hakodate's early dealings with the western world. Today, they are home to an array of busy restaurants and shops, with one example transformed into a beer hall. We had an excellent lunch of Salt Ramen noodles in Miso soup, a Hakodate speciality, in an unassuming local restaurant.
BELOW:

Red Brick Warehouse District of Kanemori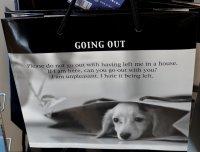 ABOVE:
Lost in Translation
Duly fortified, we walked all the way back to the main station, just beyond the market where our explorations had begun. On the way, we paused at a local shop to consider the message on a displayed carrier bag (see right). OK, so it's several million times better than my Japanese, but then I'm not in the business of producing merchandise bearing Japanese-language inscriptions. Come to think of it: why was the message written in English in the first place?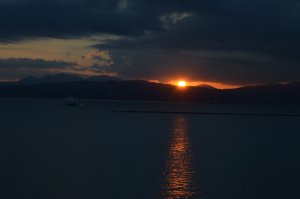 ABOVE:
Sunset from the balcony
A busy shuttle bus, carrying almost as many ship's crew members as cruise guests, soon brought us back to the Sun Princess. We relaxed for a while and managed to catch the sun going down on Hakodate Bay (left). Tonight's dress code was 'smart casual' and it was soon time for cocktails followed by dinner in the main Regency dining room. We were delighted and very surprised to find that we had been allocated a table for two, which we would keep for the duration of the cruise, along with our allocated waiters, Marlon and Farida. This was so much better than being forced to make polite small talk with complete strangers!
I had a very nice meal consisting of a beef Carpaccio starter, Sichuan prawns main course and assorted cheeses, all washed down with a tasty Pinot Noir. I was delighted by the standard of the food and Bruce confirmed that it was better than on his previous cruises. The dining room was noticeably busier than other areas of the ship, many of which appeared to be almost dead. In large part, it seemed to come down to cultural differences. Many Chinese passengers, having stumped up the money for the cruise, seemed reluctant to part with any more. Many of them simply disappeared in the evening, while others would occupy tables in a bar or café and then decline to order anything at all. We even saw instances of (free) hot water being ordered and teabags produced from pockets or handbags. It must have been terribly boring for the staff. Worse, on this American ship where staff were dependent on tips for a significant part of their income, this sort of behaviour had direct financial consequences for crew members!

We made a quick after-dinner tour of various night spots around the ship, but after a fairly long day pounding the pavement, we weren't up for making a late night of it. As I drifted off to sleep and as Sun Princess set a course for our second port of call, I pondered what a great little destination the first one had turned out to be: attractive, interesting and easy to navigate. If there's any justice, those shiny new inter-island bullet trains will soon be packed with visitors bound for Hakodate.