Background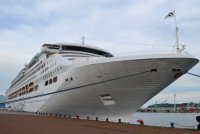 Third time lucky, so the old saying goes - and you'd believe it too, going by the provenance of this trip. It had been Bruce's ambition for several years to introduce me to the world of ocean-going cruise liners. The first serious attempt was in 2011, when we had hoped to book an Alaska cruise out of either Seattle or Vancouver. The sought-after deal never materialised and we moved the idea to the back burner in favour of what became a highly successful visit to Mexico. The 2012 attempt, involving a cruise out of New York to New England and the maritime provinces of Canada, was actually booked - then subsequently cancelled due to the need for me to undergo a major surgical operation. Towards the end of 2013, Bruce spotted an unusual Round Hokkaido itinerary operated by Princess Cruises and soon we were applying our minds to the task of designing a trip around this very exciting centrepiece.
I had been to Japan on three previous occasions, while Bruce had only made one short 'flying visit' to Tokyo. Nevertheless, he was determined that we should come up with a plan that didn't involve substantial repetition for me. We soon agreed on an unusual first week on the main island of Honshu, which would ignore Tokyo and Kyoto in favour of the more esoteric destinations of Kaga and Kanazawa. We travelled to and from Japan separately: although we had both chosen Star Alliance for this trip, we were redeeming miles from separate programmes with different rules and potentially different availability. For me, it was my first award booking using miles accumulated in Lufthansa's Miles & More scheme, which saw me sampling All Nippon Airways and Turkish Airlines for the first time, in addition to Lufty itself.
Please join us on this unusual and innovative Japanese adventure, with added short visits to Germany and to the Russian Far East!