Onwards to Kanazawa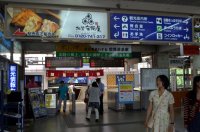 Our journey continues from Kagaonsen

We had a leisurely lie-in, feeling that it would have been against the Ryokan ethos to be up at the crack of dawn and showing impatience to get onto the next item on the agenda. (And in any case, breakfast didn't start until 9am.

) The first meal of the day, for which the Yukata was once again the appropriate form of dress, turned out to be another multi-course affair involving three different fruit juices, Miso soup and other tasty treats. I have to confess that I balked slightly at one of the latter: raw fish roe. My constitution tends to be at its most delicate first thing in the morning and this was just too graphically anatomical. While I had recently become a big fan of sushi and sashimi, raw internal organs for breakfast somehow crossed a line as far as I was concerned. I nibbled; I acknowledged that it was tasty, but I felt compelled to leave it at that. None of this should in any way detract from the fact that overall, this was another beautifully presented and hugely enjoyable meal - but we all have our limits.
We checked out at 11am. The hotel owner, Mr Nakamichi, asked one of his employees to take his photo with us, and then the 11:15 complimentary shuttle bus to Kagaonsen Station was seen off in true Japanese style by a group of staff. We bought our tickets and once again rode the Thunderbird Express 'green car' for the short journey to Kanazawa.
ABOVE:

Arrival at Kanazawa Station
Kanazawa Station proved to be something of an attraction in its own right. The striking new concourse, featuring a soaring glass and steel canopy and an impressive wooden structure known as the Tsuzumi Gate, was the result of a modernisation project aimed at preparing the way for the extension of Shinkansen 'bullet trains' to Kanazawa in late 2014. Putting most British cities to shame, Kanazawa's bus terminal was situated right in front of the stylishly enlarged station, in such a way that passengers could change from one mode to another without the risk of getting wet. And contrasting with numerous transport hubs all over Europe, the immediate neighbourhood was anything but sleazy, incorporating upscale shopping malls and food courts, the city's concert hall and a number of higher-end hotels. The latter included our base for the next three nights, the ANA Crowne Plaza, which we reached effortlessly.

By a stroke of good fortune, our allocated room - an attractive junior suite - was ready to be occupied. We briefly settled in and then headed back out to the sixth-floor food court in one of the attractive malls attached to the station. After surveying the various options, we selected a fairly unassuming restaurant and enjoyed some cold noodles. Bruce got his protein fix from tempura shrimp and vegetables, while I opted for fried chicken. As ever, the food was well presented and appetising.
After lunch, we took a tourist shuttle bus, plying one of several routes specially designed for visitors to the city, to the 21st Century Museum of Contemporary Art. Less than ten years old, the building had a circular design and a light, airy feel, the level of daylight provided by glass panels on the external walls being further enhanced by a number of internal courtyards. The first two exhibits that we visited (family photos and an architectural competition based on house design) required visitors to vote for their favourites! After that, we began to think that there wasn't much more to see, before realising that ticket purchase was required for the remainder of the museum. Everyone's favourite exhibit seemed to be The Swimming Pool, which was high in entertainment value and allowed people to view from both below and above. Unlike the other parts of the museum, photos were allowed here.
We finished up by walking around the outside of the building, before returning to the station and the Crowne Plaza. It was time for some well deserved relaxation.
LEFT:

Kanazawa's 21st Century Museum of Contemporary Art

RIGHT:

The popular 'Swimming Pool' exhibit was undoubtedly entertaining - but is it art?
In due course, we went downstairs for pre-dinner drinks in the hotel's lobby bar. Unfortunately, this quickly proved to have inappropriate, café-style seating, bright lighting and frankly no atmosphere at all. We moved on as quickly as possible. For dinner, we returned to the same mall that had provided our lunch stop, this time favouring the Garuda Asian Café. I selected Nasi Goreng from the pan-Asian menu and washed it down with a beer.
Now firmly settled into Kanazawa, we were both looking forward to two full days of getting to know the destination a little better.