A Canadian interlude
The ship was still making final docking manoeuvres when we both woke up a few minutes after 8am. Arrival at Nanaimo, British Columbia was imminent. The sea was flat calm in this sheltered spot on the east coast of Vancouver Island, and the weather looked cloudy, yet remarkably bright and unthreatening. The International Café was unusually busy at breakfast time, as it was being used as a waiting area by some early birds who were already all set to disembark from the ship.
After eating breakfast and getting ourselves organised, we walked off Star Princess and soon covered the short distance into Nanaimo. Amazingly, this was my third visit to this small ferry port in the middle section of Vancouver Island. Bruce had noticed that most follow-up departures of our cruise for the 2018 season were scheduled to call instead at a more obvious destination on Vancouver Island: the city of Victoria, provincial capital of British Columbia.
Today's call at Nanaimo confirmed my findings on previous visits, that while the waterfront area was fairly pretty, there really wasn't a great deal to see or do. Our walk took us around the shore area, the marina and the Old City district. In due course, we found a nice little Japanese restaurant and enjoyed a tasty lunch of an attractive bento-box ensemble, accompanied by sake.
LEFT: In the words of the well-known UK TV ad - Go Compare! (And we're not talking spelling.)
RIGHT: A tasty and beautifully presented Japanese lunch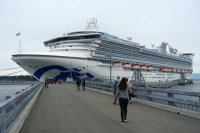 After lunch, we bought a small gift for our cabin steward, then walked back to the ship and marked a successful shore trip with a celebratory cocktail. I chose a Bloody Mary, while Bruce gave a nod to our surroundings by selecting a Bloody Caesar, the Canadian variant featuring the additional ingredient of clam broth. I then spent some time ensuring that my trip notes were up-to-date before embarking on a task that caused just a little bit of disbelief: packing! Where had the last week gone?
We had our evening cocktails in the cabin in order to finish off our remaining supplies, before going for the final dinner in the Amalfi dining room. Francis and the other waiters were in a garb that neither of us had seen before, with one half of every garment featuring the Stars and Stripes. It seemed a strange move given that we were in Canada and the cruise would not be returning to the USA. The menu also showed heavy American influence.
Back in the cabin, and following a brief spell of final packing, I fell asleep before Star Princess had set sail for Vancouver. Last boarding time at Nanaimo had been given as 11pm.