San Francisco washout
I felt (rather than saw) our arrival into San Francisco in the early hours of Friday. The process of reversing stern-first into Pier 27 caused noticeable levels of vibration throughout the ship, and this was enough to cause transient interruption to an otherwise sound night's sleep. When we looked out at time to get up, our balcony was facing the Bay Bridge, some of which was disappearing into a shroud of low cloud and haze. Exactly as forecast throughout the previous week, the weather was simply dreadful, with constant heavy rain drenching everything.
After the usual breakfast at International Café, we both worked out what we'd be wearing for going ashore and set out. We made a big mistake on leaving the cruise terminal: sticking to plan, a plan that would have been entirely reasonable on almost any other day of the year in this city, we decided to walk the relatively short distance along the Embarcadero to the Ferry Building. On this particular day, however, we quickly regretted not amending the plan to suit prevailing conditions. I soon reached the point where the top parts of my legs were soaked to the skin, despite using an umbrella and wearing a fairly heavy pair of jeans. Thankfully, it wasn't at all cold, because I knew that it would take hours for me to dry out.
The Ferry Building (1898), topped by its well known clock tower based on the Giralda in Seville and nowadays home to a farmers market and several interesting shops, is always a good place at which to call in. And in any case, there was on this occasion the added advantage of being able to identify our dinner venue.
Our first definite engagement was for a dim-sum brunch at Yank Sing, at 11am. After looking around, we set out once more, breaking our journey at the small (but always interesting) San Francisco Railway Museum, while still leaving time for a look around the Rincon Center's beautifully restored historic lobby.
Our arrival at Yank Sing turned out to be very well timed: the place was nearly empty, yet was set to become really busy, very quickly. We enjoyed an excellent early lunch of the usual Chinese treats, chosen in the case of this restaurant from roving carts, and finished off in the customary way with relatively sweet pork buns.

That mercifully dry interlude now over, it was time to brave the appalling weather once more. The next part of our plan called for a visit to the San Francisco Museum of Modern Art (SFMOMA), something that would have been a brand new experience for me. "Would have been"? Yes - the queue for buying tickets was simply enormous, and we feared that there would scarcely be room to move inside. Foiled again!
And there was more! On attempting to reach Bruce's old neighbourhood of the Castro - he lived in San Francisco for 30 years - we abandoned the plan to catch an F-line historic streetcar in favour of an underground MUNI train, thanks to the intermittent nature of today's service on the former. San Francisco just isn't used to such foul weather!
After having a look around Bruce's old stomping ground, we eventually returned by MUNI to the Embarcadero, then took an E-line streetcar to Pier 27. (The E line is effectively a recently completed extension to the F line, serving the CalTrain station. The two routes share a common section between the end of Market Street and Fisherman's Wharf.)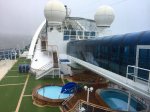 Back on board, we were happy to relax in the cabin for a bit, a period during which an important announcement was made by the captain at 4:15pm. Apparently there was more to this bad weather than just an exceptionally rainy day in San Francisco. We were going to be following in the wake of a Pacific storm up the remaining part of the west coast, and the captain and his senior team had made a decision to cancel, for safety reasons, our scheduled call at Astoria, Oregon. While undoubtedly a disappointing turn of events, we both readily agreed that it was better to be safe than sorry.
| | |
| --- | --- |
| | |
In due course, we paid a return visit to the onboard event with the oversize name: the Captain's Circle Elite Passengers' Happy Hour, in Skywalkers nightclub. When it was time to have dinner, we went ashore and headed for the Ferry Building for the second time in one day. This time, however, we learned from our previous error and made the short journey by Uber. Our venue was The Slanted Door, an upscale Vietnamese restaurant. This was an absolutely buzzing place with a remarkably young clientele - especially in view of the prices! I hasten to add that the cost was well worth it, as this was a fabulous experience to end a challenging day.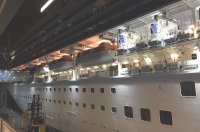 With the rain finally easing off, we managed to walk back to the ship without being completely soaked. Hopefully this helped burn off some of the evening's consumption!