Flight Log 8: UL307
Singapore (SIN) - Colombo (CMB)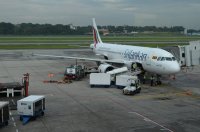 ABOVE:
Sri Lankan Airlines Airbus A320 at Singapore Changi
Approximately two and a half years had elapsed since I had last flown Sri Lankan Airlines in June 2012, during which time the carrier had been admitted to the One World Alliance. One of the first differences I noticed on this occasion, which may or may not have been related to alliance membership, was that Business Class passengers were now invited to board at their leisure. I settled into 2F and was served an apple juice and a hot towel while the aircraft was still at the gate. A welcome bonus was that the passenger in 2D moved into the empty 1F when boarding had been completed. The estimated flying time to Colombo was given as 3.5hrs.
We pushed back ahead of schedule at 0953, but quickly became stuck in a lengthy queue for Runway 2C. A flight-deck announcement advised that there were six aircraft in front of us and that the delay incurred would be 10-12 minutes. In the event, it was 1032 before we were able to take off.
I made a relatively unusual time change by setting my watch back 2.5hrs and, as there was very little to see because of thick cloud, wasted no time in getting started with the in-flight entertainment. I do not easily tire of a good classic movie, and on this occasion the one that took my fancy was Hitchcock's Dial M for Murder, dating from 1954 and starring Ray Milland, Grace Kelly and Robert Cummings.
Before long, the cabin crew had started to serve a fairly substantial and impressive-looking breakfast:
BREAKFAST
Fruit Juices
Main Course
A selection of freshly squeezed juices and exotic
Scrambled egg wrapped in pancake, paired with
pasteurised juices
mushroom in tomato sauce, chicken croquette and
potato galette
Fresh Fruit
A seasonal assortment of the finest fresh fruit
Savoury rice cake, accompanied by chicken curry and
mixed vegetables
Cereal
Corn Flakes
Sweet breakfast: waffles with mixed chopped nuts, served
with thick chocolate sauce and custard cream
Yoghurt
A fruit-flavoured yoghurt
Vegetarian choice: steamed idli served with chana
masala, mixed vegetables and dhal stew
Bread Basket
A selection of finely baked breads from our bakery, and
Hot Beverages
accompanying preserves
Freshly brewed Ceylon tea and coffee
I had the eggs as my main course, with the whole ensemble accompanied by apple juice, hot tea and toast. (I learned the lesson last time around that when you're flying Sri Lankan, it doesn't make a whole lot of sense to choose coffee!) A second hot towel marked the end of the meal.
Once my movie had finished, I had time for a couple of episodes of my favourite US sitcom - I'm sure you know what it is by now! Towards the end of the flight, I was asked if I would like anything else and decided I might as well sample the champagne, which was served with water and some nuts. I read for a bit and eventually had another apple juice prior to landing. A third distribution of hot towels marked the end of cabin service.
It was a cloudy approach into Colombo, but not overly bumpy. In accordance with local laws, the cabin was sprayed. We touched down at 1125 Sri Lanka time and were at the gate four minutes later. It was a sunny 27C outside.