Flight Log 9: UL503
Colombo (CMB) - London Heathrow (LHR)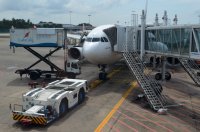 ABOVE:
Sri Lankan Airlines Airbus A330-200 being prepared for service at Colombo
This service was originally scheduled to be operated by one of Sri Lankan's brand new A330-300s, with modern flat-bed seats in a similar layout to that used on new aircraft in the American Airlines and Qatar Airways fleets. Sadly, a much older A330-200 was substituted closer to the date of travel. Any disappointment was, of course, tempered by reminding myself of the bargain-basement fare that I had paid.

On boarding, I found just three rows of 2+2+2 seats. The rows were amazingly far apart - probably the most generous seat pitch I had ever seen in any cabin of any aircraft. The seat-back in-flight entertainment screens, for example, looked huge at close quarters, but were positioned so far away that effectively they were anything but! At least there would be no question of climbing over my seatmate in order to visit the washroom. Seats 3D/F had curtains and were set aside as the crew rest area.
The strangest (and most disappointing) aspect of the cabin design, however, was a total lack of shelving or other storage space in the immediate vicinity of each seat. When it came to all those bits and pieces that I like to have around me on a long-haul journey, either they went into the traditional seat-back pocket on the seat in front (which was much too far away to reach without getting up from my own seat) or they went on the floor. Those were the choices. I also noticed that there were no air vents, so that passengers would be at the mercy of the cabin crew as far as temperature and fresh air were concerned.
Cabin service got off to a good start: my jacket was hung and I was given a glass of champagne and an attractive Crabtree & Evelyn amenity kit while I got used to my rather odd new surroundings. We pushed back at 1316, the captain explaining that we had been asked to hold for 15 minutes because favourable winds would have meant an overly early arrival into Heathrow - something that I knew full well could cause no end of problems, due to that airport's severe operating constraints. (To put it a little more bluntly, the place is full.) The cabin was sprayed and orders for lunch were taken during the taxi. Take-off from Runway 04 was at 1328 local time.
MAIN MEAL
Cold Canapé
Bread Basket
A selection of freshly baked breads from our bakery
Appetizer
Smoked salmon and grilled rock lobster served with
Cheese
California sushi roll, green asparagus, citrus salad and
A selection of international gourmet cheeses, served with
island cocktail sauce
crudités and crackers
or
Salad
Fresh fruit
Seasonal green salad with balsamic and olive oil dressing
A seasonal assortment of the finest fresh fruit
Main Course
Dessert
Sri Lankan Special: ghee rice accompanied by prawn
Trio of miniature sweet delights
curry, cashew & mushroom curry, tempered potatoes and
beetroot, served with seeni sambal and papadam
Hot Beverages
Finest Ceylon tea brewed to perfection
Lamb chop Moroccan-style, served with rich vegetable
caponata with black olives, cumin-infused couscous,
Flavoured tea selection
grilled cheese and a rich cream tomato masala sauce
Freshly brewed international coffee served with a fine
Roast breast of chicken in mushroom sauce accompanied
selection of chocolates
by herbed chateau carrots, broccoli florets and pan-fried
potatoes
Vegetarian choice: vegetable cutlet, cashew & pea curry
and brinjal moju, served with yellow rice and papadam
As is my usual practice, I reset my watch during the climb, which in this case meant putting it back by 5.5 hours. The main meal got underway relatively quickly, with a service of drinks (I had champagne) and canapés, something that would traditionally have been associated with first-class travel. The meal continued in line with the photos, with well presented starter and main course plates. The dessert and cheese trolley added a further sense of elegance to proceedings. A cup of tea and a chocolate rounded the experience off nicely. Altogether it was a most enjoyable meal, with excellent friendly service throughout.
Meanwhile, on this flight of contrasts, the in-flight entertainment system was one of the worst ever, being a good couple of decades out of date. Rather than an 'on demand' service, four pre-determined sets of programming ran continuously throughout the flight. Each set had around 15 channels of content, with a huge degree of overlap in the content (i.e. the main differences between sets lay in the order and timing of individual features). Despairing of this clumsy and woefully outdated set-up, I decided after the meal to sleep for a bit and then read for a while.
We still had 5.5hrs to go as we flew over Iran's Zagros Mountains, avoiding Iraqi and Syrian airspace. Our route so far had taken us across southern India and the Arabian Sea, over Oman and the United Arab Emirates (passing close to both Muscat and Dubai) and across the Persian Gulf. Still to come were Turkey, the Black Sea, Romania, Hungary, Slovakia, the Czech Republic, Germany and the Netherlands. At this point, with the terrible IFE, it was starting to feel like an awfully long way.
A combination of reading and dozing saw me through it, and in due course it was time for more food. This time, I went for the mushroom soup and the salmon teriyaki, washed down with a beer and finishing off with more tea.
SECOND MEAL
Soup
Bread Basket
Cream of mushroom, served with crouton and sliced
A selection of freshly baked breads from our bakery
mushroom
Fresh fruit
Main Courses
A seasonal assortment of the finest fresh fruit
Club sandwich: triple-decker toasted sandwich with
grilled chicken breast slices, turkey bacon and cheese,
Hot Beverages
served with potato wedges, pickled onion & gherkin, and
Finest Ceylon tea brewed to perfection
tomato sauce
Flavoured tea selection
Pan-seared salmon steak served with teriyaki sauce,
paired with seasonal roasted vegetables and wasabi
Freshly brewed international coffee served with a fine
mashed potatoes
selection of chocolates
Something light: grilled lamb panini served with roasted
baby potatoes, bell peppers and Greek salad
Vegetarian choice: roast vegetable and field mushroom-
stuffed cannelloni, served with tomato herb sauce,
asparagus spears and bell peppers
Other than a single loop over Essex, it was a straightforward approach to Heathrow, offering as clear a night view of London as I had ever seen. We touched down on Runway 27R at 1903 and made it onto stand in a creditable four minutes, comfortably ahead of schedule despite our intentionally delayed departure from Colombo.