Flight Log 7: MH607
Kuala Lumpur (KUL) - Singapore (SIN)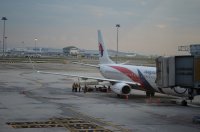 ABOVE:
Tonight's 737 gave the appearance of being camera-shy
Not for the first time in my flying history, I managed to be the first passenger on board - they called families with small children and Business Class passengers together and the former were slow off the mark.

I settled into the by now thoroughly familiar territory of 1F. An apple juice (from the usual selection) and a cold towel were offered when boarding was almost complete. Once again, the aircraft had Dreamliner-style overhead fittings and on this occasion, the overall presentation of the cabin could not be faulted in any way. Nor could the super-efficient departure process. Doors were closed at 1925 and the aircraft was moving less than two minutes later. The safety demonstration included a full run-through in English on this occasion and meals and drinks orders were taken during the taxi. Yet by 1935 local time we were already in the air - an impressive performance indeed at such a large and busy airport!
I noticed that the front cabin was busy, yet 1D was again empty. It was beginning to look as if there might be a deliberate policy to allocate any extra space to One World Emeralds. It wasn't worth bothering with in-flight entertainment on such a short sector, so I concentrated on the simple pleasures of keeping hunger at bay and looking out of the window. As far as the latter was concerned, the earlier showers seemed to have passed and it was now a lovely clear night, with streetlights visible below. I soon had further confirmation that an American Airlines 'FEBO' (front even, back odd) system was being operated, as service once again started at the rear of the cabin on this odd-numbered flight. This was a much more basic, speed-orientated meal than I had become accustomed to, but I still enjoyed it. The main course consisted of four skewers of chicken, three cubes of a white vegetable (probably daikon) and a small foil tray of satay sauce. For dessert, there was a single Lindt chocolate. It was a sparsely populated meal tray, but nice enough.
The seat belt signs were never turned off during this rather choppy short flight, so it was even more of a jolt when, just 22 minutes after leaving the ground in Kuala Lumpur, a flight deck announcement spelled out the fact that the journey was already coming to an end, instructing the cabin crew to prepare for arrival. This triggered a distribution of hot towels as well as the usual clearance of service items and cabin checks, and soon I was looking down again on that familiar sight of countless brightly lit ships lying at anchor.
After a bumpy ride, we made a particularly smooth touchdown at Changi at 2013 and then took a further ten minutes to park up on stand.

Date: Sun 07 Dec 2014
Aircraft: Boeing 737-800
Scheduled dep: 1930
Actual departure: 1927
Scheduled arrival: 2030
Actual arrival:
2023
Cabin:
Business Class
Seat: 1F