Hotel 11
InterContinental, Muscat
This is another very nice InterContinental, the bland and concrete-ridden outside appearance of which belies its attractive and luxurious interior. Internally, the hotel is built around a spectacular, bright and airy atrium. Floors 4 and 5 are the designated Club Room levels, the Lounge itself being on the 4th floor. The breakfast offering was good and, while smoking is permitted, there is a well-segregated smoking area. My room was an attractive suite formed out of two rooms, so once again I had the minor confusion of having two doors each with a doorbell - which to answer?

Better still, both doors were in a fairly private 'cul-de-sac' corridor at a corner of the building.
It is a resort-type hotel with extensive grounds, although business travellers were definitely in evidence as well. There is a good variety of restaurants and room service, which I used fairly extensively, was excellent. My favourite meal was, however, lunch in the hotel's branch of Trader Vic's.
In : Thu 24 Apr 2008
Out : Mon 28 Apr 2008
Nights : 4
Room : 505 / 506 (King Club Suite, Sea View)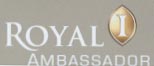 Next Hotel
Previous Hotel