Iguassu : Niagara on Viagra
For the fourth and last time, we had the usual Club Lounge breakfast, leaving time to pack prior to departure at ten o'clock. We caught a yellow and black taxi - throughout my stay they had seemed to me like so many giant bees buzzing around the city! - to the domestic airport, the Aeroparque Jorge Newbery. I was surprised by the airport, which I expected to be much more basic. There was no lounge, of course, but at least my oneworld status was recognised with the ability to board at my leisure when the time came. We had really timed it just right, not having to do much sitting around prior to boarding. It was interesting to observe that LAN was the only airline operating modern aircraft!
(Link to flight log in side panel)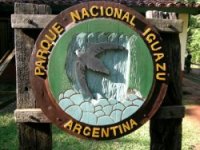 The baggage took a while to appear at Iguassu, despite the close proximity of the aircraft. (Incidentally, I've decided to stick with the anglicised version of the name, although of course it's Iguazú in Spanish and Iguaçu in Portuguese.) We spotted a taxi desk while waiting, so when the carousel finally yielded up our luggage, we were very quickly on our way to the Sheraton. And what a difference from Buenos Aires, rolled-down windows providing essential ventilation! We had to pay 60 pesos each as a fee for entering the National Park.
Arrival and check-in at the Sheraton were both very straightforward. Having already booked a falls view, we were upgraded to a newly-modernised top-floor room and Bruce, being an SPG Platinum member, was offered a choice of welcome amenity. He selected Champagne and Canapés, to be delivered at 6pm. As soon as we had settled in, the first priority was to get some late lunch by the pool, as LAN's in-flight snack had certainly not been enough to keep the hunger pangs at bay. After that, we walked one of the easier trails, which took us to the top of the nearer set of falls. Although these looked comparatively subdued from a distance, and indeed the falls in general are not at their most powerful in May, they were still most impressive when experienced at close quarters!
Back at the room, the Champagne and Canapés arrived on schedule and the selection of the latter was so extensive that we cancelled plans for dinner! Instead, the evening was given over to watching TV, reading and relaxing.