Allons au Québec!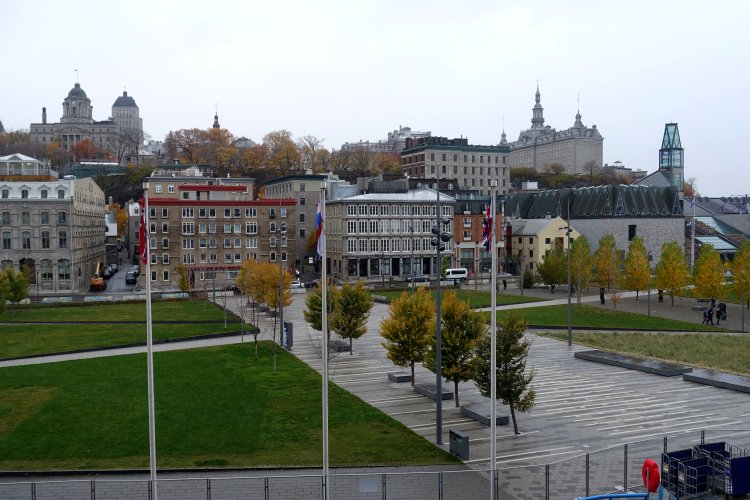 We rose in good time for our 1115 flight from Toronto's downtown 'Billy Bishop' airport to Quebec City. After showering and packing, we left without having breakfast and reached the airport by travelling a few stops on streetcar 509. We had an easy passage into the airport via the new pedestrian tunnel, and I couldn't help comparing this to my 2011 visit, when the terminal had been reached by what I regarded as the "world's shortest ferry ride". (Remember the discussion of Centre Island / Toronto Island on Day 1? The airport is situated at the western end of that island, only metres away from the mainland.) Once airside, the first priority was to have coffee and some breakfast.
We successfully managed to avoid being 'intercepted' due to our overweight hand baggage. When it was time to board, even the gate agent didn't bat an eyelid. In any case, our rollaboards were destined for the hold for reasons of size, but at least we had personally seen to it that they got to the correct gate and aircraft. Missing luggage would have been an unmitigated disaster, as we were boarding the cruise on arrival at the destination.
The flight itself passed without incident, and indeed was quite pleasant. Free snacks and drinks served in proper glasses constituted a fairly impressive effort for a turboprop flight in 2019. In due course we arrived at YQB airport, which in harmony with my memories of that 2011 trip, seemed to be a pleasant place. We took an Uber to a grocery store adjacent to the port, with the intention of buying some wine to take on board - this can only be done at the initial boarding without incurring a 'corkage' charge. But the shop was closed, so we were thwarted in that little tactic.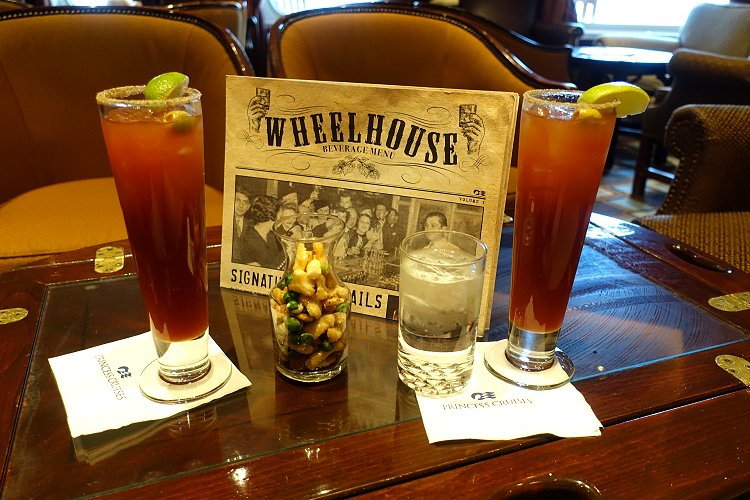 The boarding experience was delightfully straightfoward: we soon settled into stateroom B201 and met our cabin steward Ding ("as in ding-dong" - his words!), who hailed from near Cebu in the Philippines. We grabbed some lunch at the main buffet restaurant and later, around mid-afternoon, decided to have Bloody Caesars (this was Canada, after all) at our favourite Princess Cruises watering hole, the Wheelhouse Bar. We then made a quick photo trip round various parts of the ship - see Cruise Ship in the black menu bar above - and then enjoyed the simple luxury of a little chill time in our new quarters.
Pre-dinner cocktails were in Crooners. Somewhat alarmingly - and uniquely, in our combined experience - this venue had a surprisingly downmarket feel this evening, due entirely to some of the clientele. Imagine middle-aged men in inappropriate evening attire, seated at the bar and bellowing like foghorns - Bruce described it as "the Florida factor".
Dinner was in the Palm dining room. Once again, Bruce's status with the cruise line meant that we were allocated a table for two, which would be ours for the duration of the cruise. The meal itself, however, was disappointing.
As it had been quite a long day, we decided on a relatively early night.