Island-hopping to the Emerald City
In a repeat of how the previous day started, we got up at 0615, the attraction of making an early start reinforced by the fact that we had a firm ferry booking to meet. Unlike the previous night's placid interlude marked by the gentle sounds of water and the local marine wildlife, on this occasion I still had vivid images in my head of a weird and thoroughly mixed-up dream sequence involving three of my friends; the cities of Glasgow and San Francisco; a large, maze-like parking garage leading to a building that felt like a cross between an office block and a hospital; an amphibious bus; and a rail vehicle that on the outside was a San Francisco cable car, but inside resembled a twin-aisle, wide-body jet. In the words of the psychiatrist who appeared in an episode of the classic comedy series Fawlty Towers, there's enough material there for an entire conference!
We left the Red Lion without eating and stopped for a simple McDonald's breakfast in the next town, Sequim. From there, we had to drive first around Sequim Bay and then Discovery Bay (memories of Hong Kong!) to reach the ferry terminal at Port Townsend. After a short wait, we were able to drive onto MV Salish for the 35-minute crossing to Keystone Harbor, on Whidbey Island - new territory for both of us.
ABOVE: Port Townsend, ferry crossing to Whidbey Island and arrival at Keystone
On making landfall on Whidbey Island, we drove the short distance to the opposite coast and the pretty little town of Coupeville. We paid a visit to an independent coffee shop and bakery and enjoyed the lovely views down at the pier, where it was possible to see right across Skagit Bay and far inland to the distant, snow-capped Mt Baker.
LEFT: A morning stroll in Coupeville, Whidbey Island, with views all the way to Mt Baker

ABOVE: Clinton - Mukilteo ferry
BELOW: Passing the Boeing factory

LEFT: Scots-born philanthropist Andrew Carnegie (1835-1919) appears to be doing his bit for men's health in 2013
RIGHT: All-American lunch at Po Dog
After that most enjoyable short stop, we drove the length of the island to Clinton and caught a busy ferry to Mukilteo on the mainland. I had briefly visited this spot in September 2006, as recorded elsewhere in these pages, so I knew that as we reached the top of the steep hill out of the little ferry port, we would be facing the Boeing factory at Everett and the Hilton Garden Inn that I had previously made my base. Driving past the huge complex towards the on-ramp for Interstate 5, it was possible to catch glimpses of several 787 'Dreamliners' for Air India and a lone 777 for Cathay Pacific. After a quick run south on the freeway, we arrived at Ballard, a northern suburb of Seattle and a former industrial area that had turned trendy and cool, with lots of desirable shops and restaurants. An all-American hot dog lunch awaited us at Po Dog on NW Market Street.
After lunch, and in view of the time, we decided to forego the planned visit to Ballard Locks and head straight into town. It was a fast run to our next night stop, the Hyatt at Olive 8, and we were able to return our rental car at the nearby Hertz depot - this, of course, being in no sense a surprise or a coincidence. After completing the formalities and leaving our luggage in our latest room, we headed out for a walk around the nearby Pike Place Market. This also presented the opportunity to acquire some wine for the following day's train journey.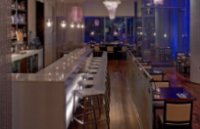 After a short rest on returning to the Hyatt, we went downstairs for cocktails in the attractive and popular bar area of the in-house Urbane restaurant (left). Afterwards, our search for a suitable dinner venue led us to Blueacre Seafood, a visually impressive restaurant on 7th Avenue which had apparently taken over from a well-regarded, but now closed, high-end establishment called Oceanaire. This looked very promising but was ultimately disappointing, with service levels going steeply and unashamedly downhill from the moment that we chose to order from the set menu. Worse, Bruce's salmon was badly overcooked while my cod, although perfectly cooked, contained bones. That's really not acceptable in a restaurant with fine dining pretensions.
Nor was that the end of the evening's challenges: back in the hotel room, something prompted Bruce to read Amtrak's baggage regulations, as a result of which he discovered that his main case was grossly overweight for the next part of our adventure. There was nothing else for it: at a time when I was settling into bed on the eve of Thanksgiving Day, he had to head out once more in search of a new bag, so that he would be able to split up his luggage in a way that was acceptable to Amtrak. The amazing thing is that his quest didn't take too long, but as I drifted off I thought to myself: talk about 'Sleepless in Seattle'!