Serene landscapes (with a couple of blemishes)
ABOVE: The Astoria-Megler Bridge and the Washington state line
One of the unexpectedly enduring memories of this trip was waking up briefly at around 4am and being aware of the sounds of lapping water and seals at close range. Luckily I drifted off to sleep again for another couple of hours. In view of the 240-mile drive that lay ahead, we got up nice and early at 0615, had a continental breakfast in the hotel lobby, got the car loaded up and made a start just as day was breaking. Almost as soon as we had left the pier, we were on the upward-spiralling approach to the Astoria-Megler bridge and causeway that spanned the great Columbia River and took us into the state of Washington.
ABOVE: Coastal views around Baker Bay / Willapa Bay

The intention was to stay on US highway 101 all the way to Port Angeles, a small ferry port that faces across the Strait of Juan de Fuca to the Canadian city of Victoria on Vancouver Island, British Columbia. Following the initial river crossing and entry into Washington, the first substantial section of the drive included some stunning coastal scenery. This was further enhanced by a little detour at Baker Bay towards Cape Disappointment, a curiously named headland that apparently receives an average of over 2,500 hours of fog a year. That's the equivalent of more than 100 days of continuous, non-stop gloom - and I thought that British weather had its challenges!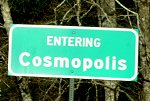 In due course we drove through a place called Cosmopolis, which I mention simply because the name made it sound to me like a giant, futuristic city out of a Superman comic. Needless to say, it wasn't, but at least it had one significant employer in the form of a wood pulp processing plant.
Shortly thereafter, we made a stop for coffee in the unattractive and down-at-heel town of Aberdeen. I pondered how it could be that the state which brought us Microsoft and Starbucks, which is a major high-tech manufacturing base for Boeing, which has abundant natural resources in the form of timber and fish stocks and which has such great tourism potential, could also be home to a town in such a sadly run-down condition. It all seemed to be in stark contrast to what had become of its Scottish namesake, now the oil capital of Europe.
| | |
| --- | --- |
| | |
Thankfully, we had soon left that rather depressing pit stop behind and were heading out once more into the infinitely more attractive countryside. The next section of the drive saw us dipping in and out of Olympic National Park, no entry fee being required as we were simply travelling on US highway 101. Judging by the number of heavily loaded trucks on the road, the traditional industry of logging was still alive and well. There was a section where the road hugged the coastline for a few miles, but the views were, for the most part, frustratingly obscured by trees. We eventually arrived at the small town of Forks and, however improbable it may sound, had a Chinese lunch there.
The next section of the route was probably the most scenic of all, lying mostly within the National Park boundaries. We made two separate stops at Lake Crescent, including one at the lodge situated at the narrow midpoint of the lake, where a short walk was possible in the fading daylight.

The final stretch of this long drive brought us into contact with some wintry-looking weather and kept us on the alert, scanning the road surface for possible ice patches. Soon enough, we returned to sea level and arrived safely at our destination for the night, Port Angeles. As we drove towards our hotel, it was instantly clear that this was another Washington town that was struggling badly, albeit one step up from the pitiful Aberdeen.
LEFT:

A Port Angeles mural of the remarkable MV Kalakala, withdrawn from the Victoria ferry route in 1959.

RIGHT:

Present-day MV Coho, photographed by me in Victoria in 2005.
After checking in, we headed out for a brief walk. It was noticeable that there were several groups of young people aimlessly hanging around the streets - not in a menacing sort of way, just bored rigid.
Dinner was at a place called Bella Italia. After inspecting a few alternatives, I was confidently able to assert that this was the most popular place in town, by a long way. That may just have had something to do with a regular Tuesday night promotion.