The many tastes of Portland
I was first up at 8:15am; as on the Deep South trip back in May 2013, it had taken me two nights to complete my adjustment to the new time zone. When we were both ready, we had complimentary continental breakfast in the Porto Terra restaurant downstairs. In due course we were all set to begin our explorations of what for me was another new city, but first - courtesy of Bruce - here are a few fun facts about Portland.
Portland, Oregon

-
Incorporated as a city in 1851, Portland, Oregon was named after Portland, Maine, which in turn was named after the Isle of Portland off the coast of Dorset, England.
-
With a population of around 2.3 million, greater Portland ranks as the 19th largest metropolitan area in the USA. (The city itself is home to just over 600,000 people.)
-
It is

not

the capital of Oregon; that honour belongs to Salem.
-
City nicknames include Rose City, Stumptown and PDX.
-
Keep Portland weird is the unofficial city slogan.
-
As if by example, Mill Ends Park, at 2.5 square feet, is the smallest city park in America.
-
Portland has more strip clubs per capita than any other city in the country.
-
Portland has 31 microbreweries, more than any other city in the world.
-
It is against the law to pump your own gasoline in Portland - or for that matter, anywhere else in the state of Oregon.
-
The largest naked bike ride in the world takes place annually, attracting between 3,000 and 5,000 riders.
-
The world's largest bookstore, Powell's City of Books, is in Portland.
-
Portland is the birthplace of Wikipedia.
-
More than 700 food carts ply their trade daily, feeding the hungry masses.

We set out just a little later than intended at 10am and made the easy quarter-mile walk to Portland Art Museum on SW Park Avenue. Founded in 1892, this is one of the oldest art museums in the United States and certainly the oldest in the Pacific Northwest. The large collection spans the centuries stretching from ancient times to the present day, and specialties include Native American art and modern art. The collection is housed in two separate buildings, the Belluschi building and the Mark building, which are conveniently linked by a subterranean gallery.
We spent around 90 minutes touring the exhibits and both enjoyed the experience.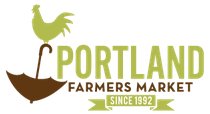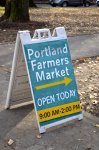 When we were finished at the museum, another easy quarter-mile stroll along SW Park Avenue brought us to the Portland Farmers Market at Portland State University. Founded in 1992 elsewhere in the city and then moving quickly to the PSU campus, the market's strapline is: Bringing the best of the country to the heart of the city. It was interesting to browse the colourful stalls, try some samples and observe the locals stocking up on fresh produce. At one point we bought a couple of (American) biscuits with pimento cheese - sounds very Southern, but there you are - and coffee. We found an empty bench on which to enjoy these mid-morning snacks and as we did so, I found myself remarking to Bruce: "There's a pig over there". The observation was sufficiently unexpected as to require repetition. I did so, adding: "It seems to be with that guy". I popped over for a quick photo of the animal, while Bruce did the proper American thing and engaged the owner in conversation, finding out in the process that the pig's name was Beef (I kid you not) and that its human companion was a committed vegan. I suppose that walking your pet pig on a Saturday morning is one way of doing your bit for the city's unofficial motto (see above)!
BELOW: Portland's 'green' credentials are impressive
After tasting some samples, we bought a couple of bottles of wine at a stall run by Syncline Wine Cellars of Lyle, Washington, on the banks of the Columbia River. It's a small, family-run winery that keeps its production to less than 6,000 cases a year "to ensure intimacy with each barrel and every vine." (It seems to work: both were delicious.)
We then returned to the hotel for a brief freshen-up prior to the day's main event, passing on the way a cluster of electric vehicle charging points. Portland is one of the most environmentally conscious cities in the US; we had already encountered its well-developed tram / light rail network and the encouragement for electric cars provided further evidence of a commitment to sustainability.

Our Saturday afternoon was given over to a walking, eating and drinking tour of downtown Portland and the city's artsy Pearl District, run by Forktown Food Tours. The company's tours were rated the Number 1 activity in Portland by Tripadvisor; "we're blushing", commented the firm's website! Expectations were therefore set fairly high for the experience, which was scheduled for 3hrs 15mins, covered a mere 1.5 miles of walking and promised culinary experiences ranging from fine dining to food carts.
We were not to be disappointed. Our group assembled at the Parisian-inspired Brasserie Montmartre on SW Park Avenue. We were the only overseas visitors in the group: two others came from Chicago and everyone else was reasonably local. Our tour guide Kelsey was a true Portlander, representing the sixth generation of a family that had arrived with Lewis and Clark's famous expedition in the early 19th century. She was clearly very proud of her city and made an excellent and passionate ambassador for it. When the introductions were complete, we had a cup of French onion soup and a glass of Pinot Noir before making a short visit to Pioneer Square.
RIGHT: Getting things underway at Brasserie Montmartre and a visit to Pioneer Square
ABOVE: Sampling the wares of the food carts
The group then walked the short distance to a gap site between SW Alder St and SW Washington St that had more or less been taken over by the famous food carts that have become so much a part of the Portland scene. Kelsey explained that, despite their somewhat buccaneering image, these small enterprises were in reality very tightly regulated, so that standards of hygiene, for example, were usually at least as high as in a conventional 'bricks and mortar' restaurant.
We visited The Dump Truck, which sounded a little unappealing until we realised that it specialised in Chinese dumplings, and Kargi Gogo. The latter served Georgian food (from the country, not the state), which combined Eastern European and Middle Eastern influences.
Pressing on across W Burnside St and into the Pearl District, we presently arrived at our next stop, Oven & Shaker. This restaurant featured a somewhat unconventional combination of hearty Italian food, including wood-fired pizzas, and cocktails. The business was, we were told, a collaboration between 'an award-nominated chef and a stellar mixologist'!
Venturing back into the downtown area, our next stop was the very popular Lardo, where the proposition was beer and sandwiches. The idea behind this venture was that careful sourcing of ingredients could make even casual food outstanding. Finally we had a couple of 'sweet stops': first Cacao, where the owner gave an interesting short talk on the differences between premium chocolate and certain well-known brands, and then Petunia's Pies & Pastries, where I struggled to eat anything at all for fear of bursting!
LEFT: Beer, sandwiches, chocolate and cakes. I couldn't recall when last I felt so full of food!
And so our tour came to an end, and it had indeed been a hugely enjoyable way to spend a Saturday afternoon. However I wasn't convinced that the amount of walking done was enough to burn off even a small fraction of the food consumed! We stumbled back to our hotel, collapsed on our respective beds and managed to find a showing of The Birdcage on TV. This appeared to be some kind of Director's Cut featuring new scenes that neither of us recalled seeing before, but as ever it was very funny.
In due course we ventured back out for a walk in the chilly night air and a couple more libations, but we never did consume another morsel of food that day.