Calling on an old friend then re-uniting the team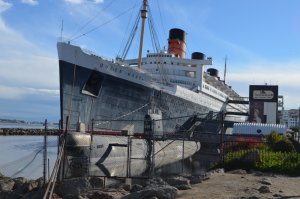 ABOVE: Queen Mary and the Russian submarine in the morning sunshine, at least thirty minutes before opening time
I got up at 6:30am as it was clear by this point that I wouldn't be able to coax any more sleep out of myself. I enjoyed a full buffet breakfast in the Hilton restaurant, which wasn't even close to being busy. After getting myself organised, I took a short stroll around the block to get orientated and learn the layout of streets in the immediate neighbourhood before moving the car. Once I did get behind the wheel, I found my way to the Queen Mary very easily and was there by 0920 - far too early for the 10am opening time!
Now at this point I must confess the fact that I had visited the former Cunard flagship on no fewer than three previous occasions; however the first of these was way back in 1987 and the gap since the third time was more than ten years. As far as I was concerned, there was no harm at all in renewing my acquaintance with a fine and world-famous piece of Scottish engineering in these familiar, but distant shores.
ABOVE: Some colourful scenes while waiting for opening time
I strolled around the site for half an hour or so until the ticket booth opened its shutters, taking in the views back across the bay to Long Beach and seeing the final hurried preparations being made for the first day of this year's winter wonderland festival. In due course, I bought a First Class ticket (obviously

), which gave me admission to the Russian Scorpion submarine moored beside the Queen Mary, to the Queen Mary herself and to a guided tour of the ship. I decided to start with the submarine.
It was then time to board the main attraction for a walk around on my own and a 'Glory Days' tour with guide James.
I grabbed a sandwich lunch from the on-board branch of Starbucks and continued my tour with visits to the Sports Deck and Bridge, followed by the Engine Room.
Returning to the Hilton, I had time to relax for an hour or so before checking out around 3pm. The drive to John Wayne Airport in Santa Ana started easily enough, but quickly turned into another challenging journey on LA's heavily overcrowded freeways. It wasn't made any easier by a few showers, but at least it was daylight this time. In due course I exited the freeway, found a local gas station and retraced my path to the airport to return the car.
ABOVE and LEFT: A few images of John Wayne Airport at Santa Ana, Orange County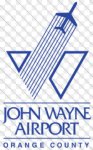 Check-in was very straightforward, which was a relief given that this American AAdvantage award flight on Alaska Airlines had inexplicably caused some problems at the booking stage. I was selected for 'expedited screening' by the TSA, a concept that I'd never heard of before. I had a stroll around the airside area of this pleasant little airport and had a burger at Ruby's prior to boarding my flight, in the mistaken belief that the on-board food offering would be fairly derisory.
(Link to flight log in side panel)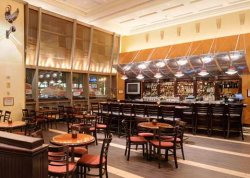 Bruce met me on my way to baggage reclaim at PDX, having driven around 160 miles after spending a few days with friends in Bend, Oregon. I was soon boarding my second rental car of the day for a quick run into Portland, the brief outdoor walk between the terminal building and the parking garage emphasising that I was no longer in Southern California - brrr! On arrival at the Hilton we were quickly told that we had been upgraded to their Executive Tower diagonally across the street; however a slightly more complicated drive was needed due to the profusion of one-way streets. After checking in at the annexe building, we jettisoned our luggage and outer garments in the room and made our way to the Porto Terra lounge - work the name out for yourself! I had a creation known as Cool as a Cucumber, consisting of Hendrick's gin (from Scotland

), cucumber, elderflower and lemon.
We called it a day after that: it had been a long day for both of us and a good night's sleep beckoned.