Planes, Trains & Automobiles ... and cable cars
Old Town Albuquerque
There was no need to be up especially early and when we were ready, we ate a good breakfast in the hotel restaurant, thanks to the vouchers that I had been given at check-in the previous day. Bruce had arranged for the car rental company to pick us up at 0930, so we checked out and took a seat in the lobby. In the event, and only after being prompted by a couple of phone calls, it was after 1000 before anyone showed up. At almost any other time, I would have found this irritating; but on this day there was no obvious pressure of any kind and I didn't mind just sitting there by the fire and watching guests check out and embark on the journey home. Several looked as though they had brought quite unbelievable volumes of luggage with them for their New Year break.

A young representative of Budget eventually turned up in what would soon be our SUV and drove us to the local depot to complete the necessary formalities. As it was only a one-day rental, Bruce was the sole driver. We were finally on our way by 1030 and after the delay, we both felt the need for some coffee. There was a distinct dearth of coffee shops on our road, but I eventually spotted a golden arches logo and we reminded ourselves that McDonald's had acquired a pretty good reputation for coffee.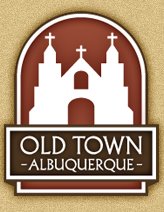 Our initial destination was Old Town Albuquerque and, rather than take a boring drive down Interstate 25, we opted for the scenic route on the so-called 'Turquoise Trail', via Los Cerillos and Madrid (!), eventually passing close to the less accessible side of Sandia Peak. We managed to find Albuquerque's old town district without too much difficulty; oddly, it is a couple of miles away from the modern downtown. I wasn't entirely sure what to expect, especially coming hard on the heels of a visit to beautiful Santa Fe, but in the end I was pleasantly surprised. The district consisted of about ten blocks of historic buildings, with a central plaza as the fairly typical focal point. The most notable building was the San Felipe de Neri church, which looked well in the bright sunlight.
After exploring the network of little streets in the bright but freezing conditions, we realised that it was lunchtime and that it felt like it! At first there seemed to be few obvious candidates for a venue, but then we noticed one cantina that seemed to be especially popular and was attracting large numbers of patrons. We were shown to a table and I had only spoken a few words to our server when she exclaimed: "Oh my God, I just love your accent!"

Sandia Peak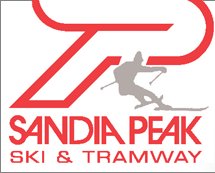 After a satisfying lunch, we were soon once more on our way, this time heading for the Sandia Peak Tramway. I remembered experiencing some minor anxiety that, with flights to catch later in the day, we were going to run out of time - as ever in the USA, things turned out to be further away than they looked on the map. However the unease disappeared when we made it to the ground station and got parked without any real difficulty. Even better, a "flight" (as the operating company insisted on calling each journey) was due to leave imminently.
Sandia Peak is the world's longest aerial tramway (or cable car system, in European parlance). It is even more remarkable for having only two support towers and for passing directly over the site of a 1955 TWA plane crash. Reassuringly, like many similar installations around the world, it was built by the Swiss, the undisputed experts in mountain transport. The ride to the top was spectacular and it came as no surprise that the temperature at the summit had dropped by several degrees compared to that at the ground station. We briefly strolled around to take in the views and to watch people engaging in winter sports, but we couldn't afford to linger for long and made our way back on the next available car after the one that we had used for the ascent.
With both our objectives for the day thus achieved, we had to face the uncomfortable reality that it was now time to head for the airport. Bruce had to start work again the following morning, while I would have a few hours in Denver before beginning my journey back to Europe. We made an essential stop to replenish the car's fuel supply, before returning it and riding the shuttle bus to the terminal building. Although Albuquerque is a small airport by any standards, I was impressed by the amount of space available in the terminal itself - but then, almost everywhere seems spacious compared to the UK's appallingly overcrowded airports. We had a cocktail to pass the time and reflected on just how much we had managed to pack into the last few days.
All too soon, it was time to see Bruce on his way to San Diego via Phoenix, with the realisation that we were not due to meet again until May. I then bought something to eat on board my flight to Denver and made my way to the gate area.
(Link to flight log in side panel)
On arrival at a particularly busy Denver International Airport, I quickly found a taxi and made the 25-mile trip into the city centre and my chosen hotel, the Curtis. It had been another long and varied day, and I realised that I was really quite tired.