New Year, New Mexico!
Onwards and upwards
Although I had fallen asleep very quickly the previous evening and had slept soundly for three or four hours, I woke up in the 'wee small hours' and anything after that was, at best, just light dozing. The train did a fair amount of lurching around, the effect of which was no doubt amplified by being on the upper deck. It tended to suggest that the track quality was not very good. (The tracks are owned by the big freight companies and freight tends not to be overly fussy about ride quality.) At some point I remembered to advance my watch by one hour to Mountain Time. Eventually it was time to get up and say hello to 2012. I have to confess that it took me three attempts to get myself into a suitable position for descending the ladder, in the limited space available between the top bunk and the ceiling!
However any amusement thus caused paled into insignificance compared to Bruce's efforts to have a shower in the tiny toilet & shower compartment. Note that it wasn't a case of having a toilet compartment and a shower compartment: they were one and the same thing, and this took a bit of getting used to. Personally, I found it somewhat intimidating to be in there attending to business with a shower head menacingly poised above me, threatening to burst into life at any moment and spray me with water. Others, it seems, are less sensitive: it has been pointed out that in theory at least, a person could use the cubicle for both its intended purposes at the same time, although quite why anyone would want to is way beyond me.
I had an attack of the giggles as the door of our 'compartment within a compartment' closed behind my intrepid friend and briefly opened again a few seconds later to allow projectile No 1 to escape. I watched with a mixture of amusement and disbelief as the toilet roll flew out and traced a graceful arc across the cabin, like some kind of mutant, paper-tailed comet, before finding a resting place on the long, bench-type seat. Good move, Bruce, I thought. Soggy toilet paper is something that we can absolutely do without this New Year's Day.

It was followed seconds later by a flying pair of boxer shorts, which emerged with sufficient force to hit the window before falling limply to the floor. All of this was somewhat unorthodox New Year entertainment and it helped to reinforce my own decision to forego the experience altogether. My ablutions, I resolved, would await our arrival at the Hilton.





ABOVE: The Southwest Chief powers on through a wintry landscape
We had a nice, but filling, breakfast in the Dining Car just prior to the end of service at 9am. It was enjoyable to eat to the constantly changing accompaniment of the snow-covered scenes outside.

We had travelled over 600 miles through the night and had climbed from sea level to 6,500ft. A strong sun shone down from a cloudless sky, but the balmy warmth of Southern California was now far behind us and in its place, the icy grip of winter had taken hold.
We returned to our cabin to find that the beds had already been stowed away. As we continued eastwards from Arizona into New Mexico, the snow cover became more sparse and soon threatened to die away altogether. We were nearly an hour ahead of schedule when we pulled into Albuquerque, where we had been due to spend 25 minutes at rest in any case. (Bruce assured me that this early arrival was really quite shocking for Amtrak!) In any event, the extra time provided an excellent opportunity to get out and stretch our legs by having a walk around the quiet city centre streets.
Downtown Albuquerque and on to Lamy
It was clear that a lot of restoration work had been done and it looked as though Albuquerque could take its place on the long list of cities with rehabilitated downtown areas. Despite the welcome sunshine, it was bitterly cold. After a quick circuit of the central area, we bought a coffee and made our way back to the train.
Very soon after leaving Albuquerque, it was time for lunch - what, already?! We kept it light: I had a small salad, a plate of spicy macaroni cheese and no dessert. Shortly after returning to the cabin, it was time to take our leave of the Southwest Chief. To my amazement, it was a bit of a wrench: I felt that I could easily have taken more of this long-distance train travel malarkey.
| | |
| --- | --- |
| As the main line does not go through Santa Fe, the train stopped at a place called Lamy. As expected, it really was the archetypal one-horse town. We found the shuttle driver and had the van to ourselves for the twenty-mile transfer to Santa Fe, which took roughly 30 minutes. | |
Santa Fe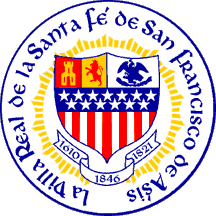 Santa Fe is another of those Latin American names that takes a bit of explaining. Anyone familiar with the likes of Santa Barbara and Santa Monica could be forgiven for thinking that Santa Fe must be named after some female stalwart of the Christian religion. The city, which incidentally is the oldest and highest capital in the United States, is indeed named after a saint - but he was a man. The full name given to this place in 1610 was La Villa Real de la Santa Fé de San Francisco de Asís, or The Royal Town of the Holy Faith of St. Francis of Assisi. As this makes clear, Santa Fe means 'holy faith'. I had visited on one previous occasion, as part of a road trip in the late summer of 1994, and remembered taking a liking to the place: a state capital with distinctive, adobe architecture and a friendly, small-town feel.
Fast-forward to 2012 and our top-floor room at the Hilton Historic Plaza was ready for immediate occupation. As we settled into the room prior to heading back outside, I was acutely aware of a curious phenomenon. I felt as though I was still on board the Southwest Chief and I would gladly have testified under oath that our hotel room was speeding along at 60mph and lurching from side to side as it did so, so that I needed to watch my balance as I moved around. The effect actually got worse when I sat or lay down. I suspected that it would take several hours for this to wear off. Before heading back outside for a walk in the afternoon sunshine, we briefly explored the hotel itself and were pleased by its rather homely feel, with log fires blazing and a generous quantity of local art on display.
Outside in the unusual mix of strong sunshine and freezing cold, we found an attractive old town full of interesting and fairly upmarket shops and galleries. Especially pleasing was the central plaza after which our hotel had been named. Rightly considered to be the heart of the city, it is a US national historic landmark and contains the Palace of the Governors, New Mexico Museum of Art, the Cathedral Basilica of St Francis of Assisi and the Loretto Chapel, as well as restaurants and art shops. The cathedral had an odd, low-rise appearance as the twin steeples called for in the original plans were never built, due to lack of funds. The other striking factor was the sheer number of art galleries and small dealerships: apparently Santa Fe attracts artists in droves due to its clear, dry air and over three hundred days of sunshine a year. I was intrigued by the Christmas decorations made of dried chillies, which added a fiery splash of local colour to the scene.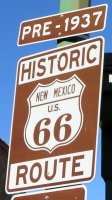 In addition to sightseeing, we checked out a few possible dinner venues. There appeared to be a fair amount of choice available, but we found one restaurant that we particularly liked the look of, and Bruce booked it online as soon as we had returned to the hotel. After that there was a chance to relax before dinner - and of course for me to have that postponed shower in a more conventional setting!

In due course we went down to the hotel bar for a pre-dinner cocktail before heading out once more into the biting cold to walk the short distance to our favoured venue, Il Piatto. Self-styled an Italian farmhouse kitchen, the restaurant had an impressive menu without sounding in any way stiff or formal. The clientele seemed to be a really nice group of people and most of the female guests in particular had gone to some effort to look their best for the occasion. Best of all, and something of a surprise on a special occasion like New Year's Day, was the excellent value offered by the fixed price deal for a three-course dinner.
After a thoroughly enjoyable dinner, we returned to the hotel through what I would now describe as the perishing cold, and popped into the bar again for a warming nightcap in front of the open fire. It was a fitting end to another interest-packed and hugely enjoyable day.