June 2019: Utrecht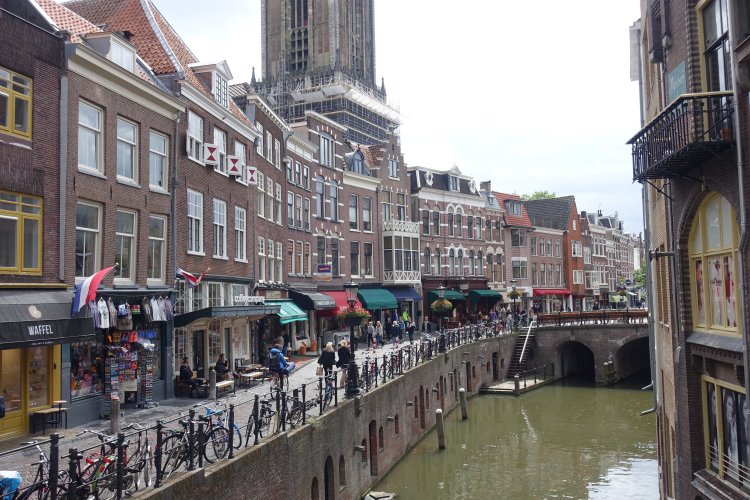 I had a two-night stay in the Dutch city of Utrecht, a new destination for me, immediately after arriving back in Europe from Amtrak Adventure 2019. This amounted to just one useful day, as I arrived on a Friday evening and was booked to fly home from Schiphol on Sunday morning. Sadly, the Saturday on which I was depending began with heavy rain and cool temperatures, although conditions did brighten up as the day progressed.
Utrecht is the fourth largest city in the Netherlands by population, after Amsterdam, Rotterdam and The Hague. It is located less than 50km southeast of Amsterdam, and is regarded as the geographical centre of the country. The city dates from Roman times, when its Latin name was Traiectum.
Two of the main sights deserve a special mention:
St Martin's Cathedral
St Martin's Cathedral dates from the 14th century. It was once the largest church in the Netherlands and is today the only surviving pre-Reformation cathedral in the country. It became Protestant in 1580 and is no longer the seat of a bishop. The nave collapsed during a violent storm in 1674 and has never been rebuilt, leaving the unusual situation that the former structure survives as two physically separate buildings: the Domtoren (now a freestanding tower, which has become a symbol of the city) and the much reduced Domkerk (the east end of the original building).
Railway Museum
The Dutch national railway museum (Spoorwegmuseum) has been based around the former Maliebaan station since the 1950s. Indeed it is still possible to arrive at the location by a special shuttle train, even though Utrecht Centraal is only twenty minutes away on foot. Over the years, the site has been expanded and improved, catering for a growing collection of rolling stock as well as smaller artefacts. In terms of visitor numbers, the museum is the tenth most popular attraction in the country.