November 2016: Marrakech
Ever since Bruce and I made a brief visit to Casablanca in 2014 for the purpose of starting a cheap Qatar Airways ticket, we had resolved to return to Morocco and see at least one of its more tourist-orientated cities. It was therefore pleasing when the opportunity arose to visit Marrakech in the late autumn of 2016. The name Marrakech (sometimes written as 'Marrakesh' in English) may be derived from 'Land of God' in one of the local Berber languages, and has previously also applied to the entire country that we now know as Morocco. The city has served as capital at least twice in its history, the present-day capital being Rabat.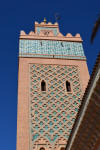 Marrakech has an ancient, fortified central core (the Medina), which consists of a maze of narrow alleyways, packed with traditional small businesses and street hawkers, as well as restaurants and small hotels. For the visitor, simply wandering through this very lively rabbit warren is an experience not to be missed, although the same visitor may wish to resist getting pulled into a dialogue with the more persistent traders, and should certainly avoid giving time (let alone anything else!) to one of the inevitable scam artists. (It should also be stressed that these people constituted a small minority.)
The iconic symbol of Marrakech is the minaret of the Koutoubia Mosque (see picture on right). Other specific sites that we visited included the Saadian Tombs and El Badii Palace (see below).
During our late-November visit, the daytime weather was mostly pleasant, but temperatures fell sharply after sunset.
General impressions of the Medina
And finally ... views from a lunch stop
On Friday and Saturday, we had lunch at different examples of a type of old-town, roof-top restaurant that is a popular design in central Marrakesh. These pictures are from Friday, showing the layout of the small-footprint building itself and the views from the dining level across the Medina. Notice the Atlas Mountains in the 3rd and 5th shots.