July 2015: Dinant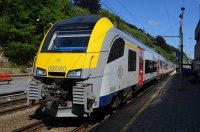 Although I had made many previous visits to Belgium, my intended destination had always been Brussels itself and/or somewhere in Flanders. I had also passed through French-speaking Wallonia on a few occasions, but had never actually made a point of visiting anywhere in this region.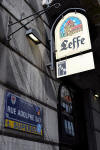 My 2015 Belgian adventure provided the opportunity to put right this omission, albeit with just a quick half-day trip to Dinant - which, incidentally, provided the only decent summer weather of the entire long weekend. We were able to travel by train directly from Brussels Luxembourg station, just minutes from our hotel.
The small town of Dinant sits on the River Meuse, not too far from the border with France. Two of its claims to fame are as the home of Leffe beer and the birthplace of the saxophone (see panel on right). The main sights are clustered together in a group: the Charles de Gaulle bridge, the Collegiate Church of Our Lady and, high above these, the 11th-century Citadel. I liked this little town a lot, possibly because it reminded me again and again of Germany's Rhineland.
Sax appeal
Dinant was the birthplace of Adolphe Sax, inventor of the saxophone. It's not a fact that the visitor can easily overlook.
Based at Renaissance, Brussels
Linked report from same trip: