January 2013: Key Largo and the Overseas Highway
Key Largo
Key Largo is the first town encountered after leaving the Florida mainland on a journey through the Keys, and as such it makes a convenient stopping point for those who have just arrived from afar and who are not quite ready to face the next 100 miles or so to Key West.
Leaving aside all the obvious potential for sunbathing and water-based activities, Key Largo has two principal tourist attractions that are located side by side. First of all, it is home to the original 'African Queen' steamboat that featured in the much loved 1951 movie starring Humphrey Bogart and Katharine Hepburn. Just along the quayside, a glass-bottom boat transports visitors to the John Pennekamp Coral Reef State Park, the first underwater park in the United States.
THE AFRICAN QUEEN
GLASS-BOTTOM BOAT
The Overseas Highway
The Overseas Highway is the section of US Route 1 between Florida City and Key West, linking the main islands in the Florida Keys archipelago. The drive is a spectacular one which includes the famous Seven Mile Bridge between Knight's Key and Little Duck Key. At many locations, the highway parallels the remains of the Over-Sea Railroad that once made it possible to travel by sleeper train from New York to Key West, then onward by connecting steamer to Havana, Cuba.

Journey's end (or start)
Highway US1 ends (southbound) and begins (northbound) at the Fleming St / Whitehead St intersection in downtown Key West.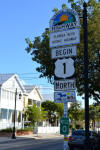 _____________________
Base: Hilton Key Largo Resort
Linked reports from same trip: