May 2012: Lake Garda
Verona is only some 30 to 40km from Lake Garda and as such it makes a good base for exploring the southern end of the lake. I took a bus to the resort of Desenzano del Garda, caught a lake boat for the short trip to Sirmione and returned to Verona on the bus. It was an interesting and enjoyable day out apart from one hitch: still not 100% familiar with my new DSLR camera, I arrived in Desenzano to find that the camera's battery was still in the charger back in Verona - curses! All photos on this page were therefore taken using my iPhone and as such are not necessarily up to the usual standards.

Desenzano del Garda
Desenzano (day-sent-ZAH-no) is a popular holiday resort on the southern shore of Lake Garda. It is famous for its beaches, its network of narrow streets and interconnected squares, and its nightlife.
Sirmione
Sirmione (seer-mee-OH-neh) lies between the larger settlements of Desenzano to the south-west and Peschiera to the south-east. It is a spectacular destination as the historic old town, complete with castle and other fortifications, is situated at the end of a narrow peninsula stretching out into Lake Garda. The town's origins go back to ancient times, but in the second millennium AD it was part of the Venetian republic and then the Habsburg Empire, before finally becoming part of Italy in 1860. It struck me as having a rather more exclusive feel than neighbouring resorts.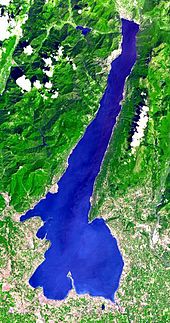 Base: Best Western Firenze, Verona
Linked report from same trip: