November 2011: Beirut
Prior to setting off on this trip, it was fascinating to observe people's reactions when I mentioned that I was planning to visit Beirut. One of the more memorable came from a work colleague whose eyes widened in disbelief before he blurted out: "OK. Well, erm, good luck with that, then!" The truth is that I'm not noted for taking stupid risks with my travels. The Lebanese Civil War ended over twenty years ago and the more recent 'July War' with Israel took place in 2006 and lasted 34 days. With lots of positive reports reaching my ears about Beirut's resurgence from these horrors in an attempt to regain some of its former glory as the 'Paris of the East', and with the city being named by the New York Times as top place to visit in 2009, I felt that the time was right to see for myself what was going on.
The positive impressions started at the airport which, after the unexpectedly chaotic atmosphere in Amman, was an oasis of calm, cleanliness and orderliness. The immigration agent, after meticulously examining my passport for any sign of an Israeli stamp, looked up, smiled and said: "Welcome to my country, Sir" - compare that to some recent experiences in the US and Canada!
As for the city itself, it is of course Lebanon's capital and largest city, situated on a peninsula roughly halfway down the country's Mediterranean coastline. It is still largely divided on religious grounds, with 90% of Muslims living on the Muslim side of the 'green line' and 90% of Christians choosing to live on the Christian side. Despite this, the two communities seem to get along in day-to-day life and the city has evolved into a cosmopolitan melting pot of multiple cultures, in which Arabic and French influences appear to dominate. Churches, including those representing branches of Christianity with which most Westerners are not familiar, sit side-by-side with mosques. Ancient Roman ruins sit alongside a few remaining war-ravaged structures, which in turn adjoin shiny new malls and skyscrapers. Lebanese food and the friendliness of the people were two great joys of the visit; the appalling traffic - some of the most ill-disciplined anywhere - was the only low point.
So is it safe? We certainly had no worries, subject to the usual need for common sense in any large city. There were a lot of police and military about, many of whom were toting some serious hardware, but we saw that as enhancing security rather than endangering it. We both loved the city and, in the absence of any unexpected flare-ups of old troubles, would return without hesitation.
City Centre
We had arranged a guide and driver prior to arrival, for an independent tour of the city on our first full day and an excursion to Jeita and Byblos on the second day. Our first stop was at the impressive National Museum of Lebanon, a beautifully presented collection of archaeological exhibits. An interesting film showed how the artefacts were saved during the civil war.
Next, our guide Bertho took us on a short walking tour of the historic centre. We visited Martyrs' Square and the tomb of former prime minister Rafik Hariri, before calling at the beautiful, blue-domed, Ottoman-inspired Mohammad Al-Amin mosque. In true Lebanese style, the mosque has as neighbours an Armenian church, a Maronite church and the Greek Orthodox cathedral, the latter of which had an interesting interior and crypt. We strolled towards the Place de l'Etoile and at this point, decided to have a delicious al fresco Lebanese meze lunch.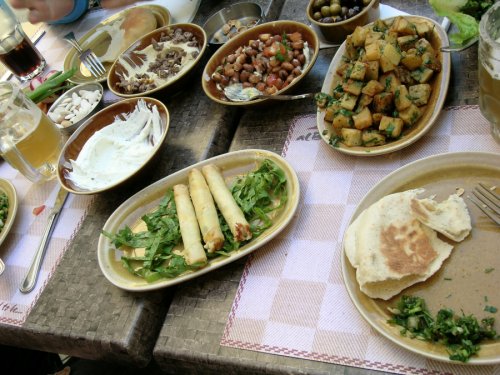 After eating our fill, but not managing to clear the huge spread, there was time for a further look around the area, which included the city hall and Lebanese parliament. On the way to the Corniche (see side panel), we passed one of the best-known images of Beirut's troubled recent history: the war-torn shell of the former Holiday Inn.
Corniche
As Beirut is situated directly on the eastern shores of the Mediterranean, it should come as no surprise that it features a busy seafront area and corniche (coastal road / promenade). The distinctive form of Pigeons Rock, lying just offshore, is widely recognised as a symbol of Beirut.
Base: Four Points by Sheraton, Le Verdun
Linked reports from same trip: