February 2008 : InterContinental, Carolina, PR
Although this was a relatively short stay prior to leaving Puerto Rico the following morning, it was sufficient to form the impression that this is a very nice resort hotel. Although it is situated in Carolina, close to the airport, it is worth noting that there is no shuttle. The hotel has its own beach and all the outdoor facilities that you would expect from a resort hotel.
This was an award stay and my upgrade was to a Club Room, rather than a suite. As the room was thoroughly agreeable and as it was such a short stay, I didn't mind. The Club Lounge was pleasant and seemed to be well run, with the usual breakfast and evening happy hour benefits. I would certainly want to factor this hotel into any future plans to return to Puerto Rico.
Two points to note, however :
The minibar contains only water, soda and beer, which could reasonably be interpreted as representing a reduction in normal Royal Ambassador benefits.
The Club Lounge does not provide computers for guest use.
In : Mon 25 Feb 2008
Out : Tue 26 Feb 2008

Nights : 1
Room :
107 (King Club)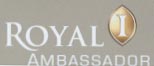 Linked reports from the same trip :-

Sheraton Old San Juan