March 2006 : Vatican City
Vatican City gets its own separate page, not only because it's a sovereign state and therefore counts as a destination in its own right, but also because there's so much to see there. The first set of pictures are general views of St Peter's Basilica. Note Michelangelo's incredible Pietà and the Swiss Guard in their winter outfits!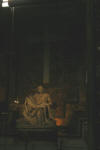 The climb to the top of the cupola is a daunting one, even with elevator assistance as far as the main roof of the basilica. The views, however, more than reward the effort expended.
Vatican Museums
This was my first ever visit to the Vatican Museums complex, including the breathtaking Sistine Chapel. I'm no great museum buff, but the collection itself and the sheer opulence of the buildings struck me as being probably without equal and I felt that I could easily have spent the better part of a day here. Sounds like I'll have to go back! The final picture in this group shows a glimpse of the Raphael Rooms through the shutters. Notice the ceilings throughout - I felt that I was constantly looking up!
The Pope
Pope Benedict XVI made an appearance at one of the huge windows of the Papal Apartments at the stroke of 12 noon on Sunday, to deliver a short homily, recite the Angelus and bless the assembled crowd.
Base : InterContinental de la Ville-Roma
Linked reports from same trip :-