Getting reacquainted with CDMX
The trip entered a new phase today: Bruce went back to work, albeit based in Mexico City. We managed to have breakfast together in a rather busy Club Lounge, a freshly cooked omelette being the centrepiece of mine. After completing my morning routine, I set out to update my knowledge of this destination on my own, while Bruce got on with his work.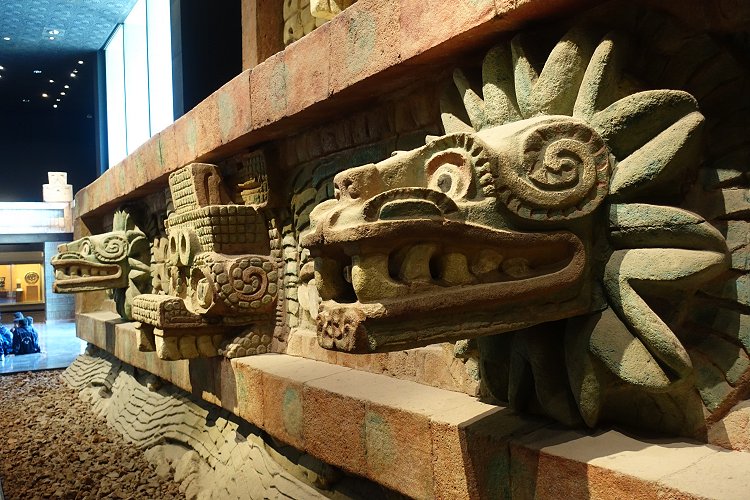 Beginning with the immediate surroundings on the side of the hotel that was visible from our room, I had a look at the Auditorio Nacional and a little sculpture garden just along from it. I also got close - without wishing to push my luck - to a heavily guarded military parade ground. With the local area out of the way, I then struck out along the Paseo de la Reforma (the busy main road forming part of our view) to the well regarded Museum of Anthropology. This was good value at MXN75 (approximately GBP3) for entry. The substantial, U-shaped building had two levels: the lower floor concentrated on archaeology in the various states of Mexico, while the upper level focused on people. I thought the museum was an absolutely first-rate, world-class facility. It managed to hold my interest for two hours. As tends to be the rule rather than the exception these days, photography without flash was permitted.
Following a snack at the Museum of Anthropology immediately prior to leaving the site, I crossed the Paseo and entered Chapultepec Park at the 'bookshop' gate, recognising this immediately from my previous visit - also with Bruce - in 2011. I made my way to the main lake, where I quickly spotted something I didn't recognise from my previous visit: one of the most prominent viewpoints was adorned with the four large letters 'CDMX'. I soon realised that this was probably an acronym for Ciudad de México, but didn't learn the full significance of the innovation until I investigated later. It turns out that the acronym was introduced in 2016 to help publicise an important change for Mexico's capital city. Prior to that time, the city had been a Distrito Federal, with strictly limited powers. On 29 January 2016, Ciudad de México gained a greater level of political autonomy, but stopped short of becoming a fully fledged federal state, as this is apparently prohibited by the country's constitution.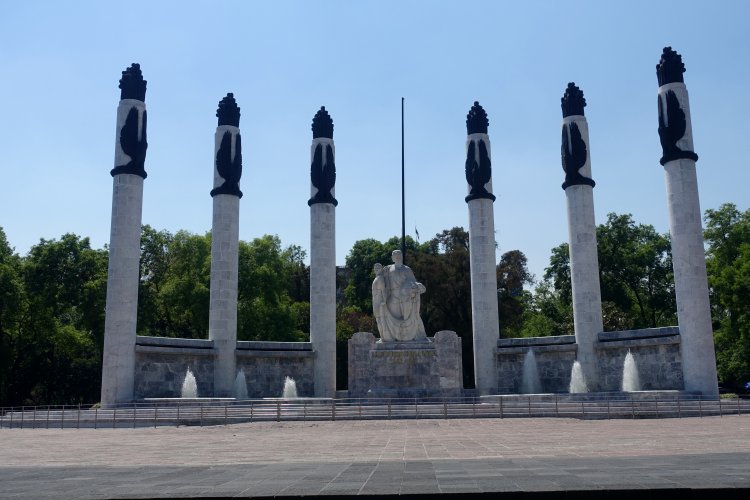 Walking eastwards from this point, I soon found myself at the semicircular Altar a la Patria ('Altar to the Homeland'), better known to most local residents as Monumento a los Niños Héroes ('Monument to the Boy Heroes'). However the relative merits of the two names weigh up, the imposing and elegant structure is dedicated to the memory of young combatants in the US-Mexican War of the mid-19th century, with each column containing the remains of a young victim of the war. I was supposedly looking for the Modern Art Museum at this point, but managed to walk right past it, perhaps partly because I found the monument strangely compelling and moving.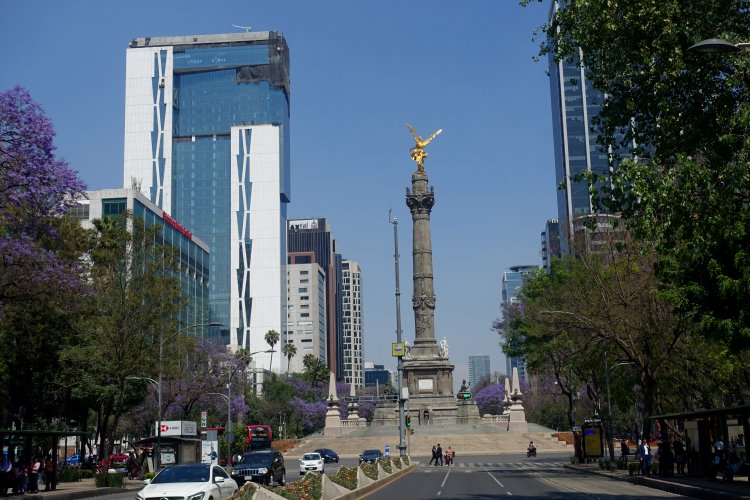 Exiting Chapultepec Park, I rejoined the Paseo and headed towards the 'Diana' fountain. Traffic was dire, and the police were taking drastic (but presumably well rehearsed) measures to alleviate the situation. These included partial road closures, conversion of two-way streets to one-way, and allowing one-way traffic to pass either side of a roundabout (having closed the cross street to traffic). An unexpected positive consequence for me personally was that I was able to stand in the middle of a normally busy section of roadway in order to photograph the Angel of Independence. This, of course, was right next to the Sheraton hotel that Bruce and I had based ourselves in during our 2011 visit.
I stopped for a coffee break while heading northwest towards Polanco, but soon enough found myself on the extremely ritzy Avenida Presidente Masaryk, Mexico City's answer to Fifth Avenue. It was like being in another city altogether, with so many prominent displays of very conspicuous wealth. I then made short visits to American Park and Lincoln Park, from where it was a short walk back to base at the InterContinental.
If I say so myself, I thought I had made a pretty good effort today, especially considering that (a) I never once set foot on public transport, all my movements being on foot, and (b) if Denver is the mile-high city, then CDMX is the 1.4 mile-high city. I treated myself to some well deserved relaxation on my return, and then, when Bruce finished his working day, we spent another successful evening in the Club Lounge.