Return to the national capital
I woke up around 0800. Bruce immediately let me know that there had been an earthquake around 0640 and that I had slept right through it. (Later in the day I would discover that the quake was around 4.9 on the Richter scale, with an epicentre off the coast of Chiapas, one of the three Mexican federal states that have a border with Guatemala. At the time of checking, around 1730, it was one of 13 earthquakes in Mexico so far that day!)
We had our final breakfast at the Holiday Inn Express, then showered, packed and waited for our booked airport transfer at 1100. On arrival at Oaxaca's small airport, we gained access to 'The lounge' using Bruce's Priority Pass. I think it was genuinely the only one - and unusually, it was located landside. It turned out to be reasonably attractive; better still, we had the place to ourselves.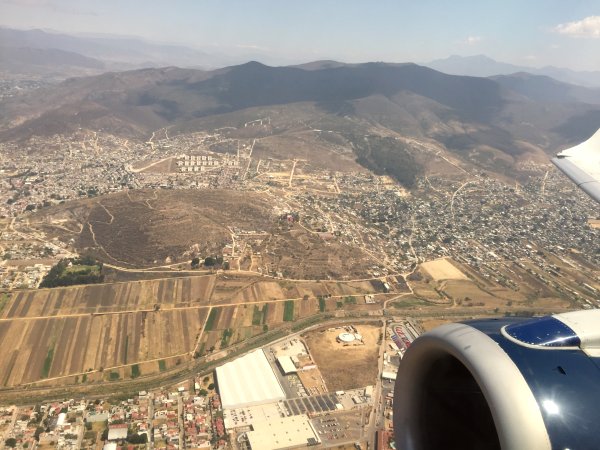 We had front-row seats in Economy for the short Embraer-190 flight back to Mexico City. We were allowed to take all our luggage into the cabin, a sure sign that the flight wasn't busy. On the downside, departure was delayed by 25 minutes due to air traffic restrictions at the destination. (No different from flying into Heathrow, then!) The InterContinental driver was waiting for us on arrival, ready to whisk us to the hotel without delay. At check-in, we were offered an excellent deal to upgrade to a Club room, which we accepted.
Settling in largely consisted of simply relaxing in the room for a while. There was now heavy rain outside, which at least was making a good job of washing the smog and haze out of the atmosphere. We went up to the Club Lounge at 6pm sharp for the start of 'Happy Hour', which in reality ran until 8pm. For a North American hotel, the food and drink offerings were unexpectedly and delightfully excellent!

05 Mar 2019: To the big city - this time to stay
×