Exploring Guadalajara
I woke up around 0400 due to ongoing jet lag, but just lay there and tried to doze. Bruce was awake by 0530, so we each went into 'morning surf' mode at that point on our respective tablets, keeping up with the latest news from home and in the frequent-flyer world. In due course we had breakfast in the Club Lounge; mine was based around Mexican-style scrambled egg, with pieces of tortilla mixed through it.

We set out around 1000 to begin our sightseeing in Mexico's second city. Bruce summoned an Uber on his cellphone and it turned up within a couple of minutes. Our drive to Guadalajara Cathedral took nearly half an hour. On the way, our friendly, English-speaking driver pointed out the Glorieta de la Minerva, a prominent statue of the Roman goddess. It is situated in the middle of a large roundabout, and is a popular spot for locals to meet, and for crowds to gather to celebrate sporting victories. (Stock photo to right)
Our driver let us off a few blocks from the cathedral. We made our way into the Plaza Guadalajara, intending to stick to our plan to visit the ecclesiastical highlight first. However, we were intrigued by our surroundings and first wandered into the Plaza de Armas, on the south side of the cathedral. We soon found the Palacio de Gobierno del Estado de Jalisco and were delighted to find that we could just stroll on in.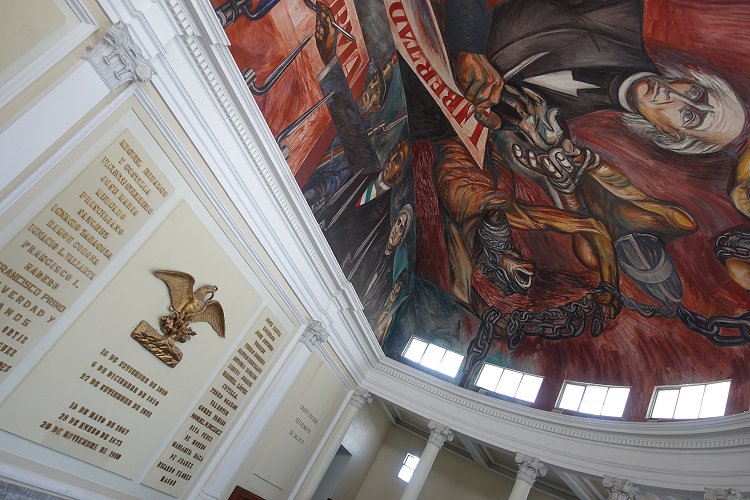 This beautiful 18th-century building, currently the seat of government for the state of Jalisco, was home to the Mexican parliament for many years during the 19th century. It was here that the historic decree was issued abolishing slavery in the country. The palace features some striking murals by Mexican artist José Clemente Orozco. The building is constructed around an attractive courtyard.
After this, we reverted to our original intention to visit the cathedral - or at least, we thought we did. After wandering inattentively through a door, looking around and being impressed by the architecture yet appalled by the gaudy and extremely tacky artwork, we approached the exit and Bruce said "Is this really it?" One step outside and we realised that what we had just seen was a kind of annexe church of the cathedral, known as El Sagrario Metropolitano. It was a bit like an exceptionally large, domed side chapel, except that this was a separate building that happened to be placed hard against the cathedral's southwest tower.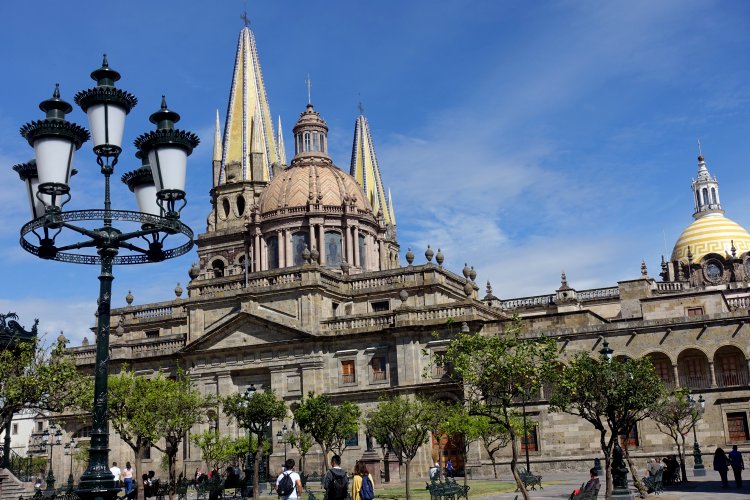 The actual cathedral was bigger and more impressive, but once again the architecture was blighted by some breathtakingly tasteless statues. The present-day building - also known as the Cathedral of the Assumption of Our Lady - dates from 1854, and is mainly in Spanish Renaissance style. It replaced an earlier structure that had been destroyed in an earthquake, and that building had in turn replaced the city's first cathedral, destroyed by fire. The current building suffered five earthquakes during the 20th century, followed by another in 2003. Like many historic structures in Mexico, it does seem to have a somewhat precarious existence.
In due course we left the cathedral and strolled to its north side, where we found a particularly green and pleasant square containing the Rotonda de los Jaliscienses Ilustres, which commemorates notable citizens of the state of Jalisco. Immediately west of this location, facing onto both the Rotonda and the Plaza Guadalajara, was the Palacio Municipal. Dating only from 1952, this is in the Neoclassical style and its courtyard, columns, entrances and murals were strongly reminiscent of the Government Palace that we had already seen.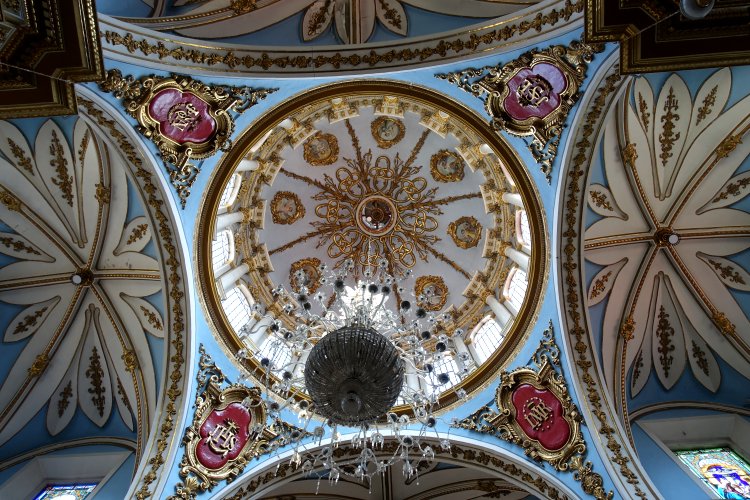 Next, we walked northwards on Avenida Fray Antonio Alcalde, the street separating Palacio Municipal from the Rotonda, and soon came to the attractive Templo San José de Gracia. We then headed south on Calle Liceo, initially through a surprisingly local-looking area, then passing the east side of the Rotonda. At the east end of the cathedral, we turned eastwards towards the Teatro Degollado, Guadalajara's striking theatre and opera house. Dating from 1866, it is noted for the diverse scope of its performances.
Across the street (Avenida Miguel Hidalgo y Costilla) from the theatre we visited both the State Congress of Jalisco, where we were able to gain access to the chamber itself, and the Templo de Santa Maria de Gracia, better imprinted in my memory as "the yellow church".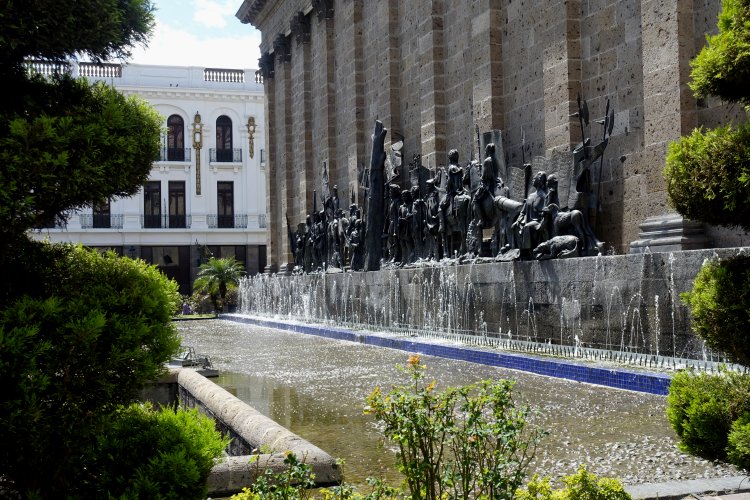 Thoughts of lunch then drove us to head through Founding Fathers Plaza (behind the theatre) in the direction of the Mercado Libertad. Or at least, that's its official name; it's better known as Mercado San Juan de Dios, after a local church. After a quick look around, we found a food stall offering table service and shared an enormous portion of the 'Monday Special', which Bruce reckoned might be goat's ribs. This was followed by a portion of 'flan', which seemed to be a fairly rough-and-ready version of crème brûlée.
After lunch, we paid a quick visit to the church that had given the market its popular name and then strolled to the Hospicio Cabañas, a former hospital and orphanage that is now a UNESCO World Heritage Site. Unfortunately it was closed on Mondays, but at least there were some interesting sculptures outside, which I can best describe as shoe-wearing chairs being sat on by melting figures!
At this point, we were ready to take an Uber back to the hotel, where we were able to enjoy some quality pool time in blissfully quiet surroundings. Later, we opted for another 'lounge evening' with drinks and canapés, rather than a full dinner.