Arrival in Guadalajara
Many considerations typically come into play when deciding whether or not to book a hotel car to meet you on arrival at a foreign airport. Apart from cost, these typically include level of familiarity with the destination, availability of viable public transport alternatives, standards (and degree of regulation) of the local taxi market, the level of local prices generally, and the perceived risk of enountering 'hassle factor' at the location. Making the call can be easy or difficult, depending on how the various considerations balance out. Once the decision is made, however, one thing is almost universally true: this is a thoroughly civilised way to arrive in town.
And so it proved to be today. As we made good progress towards Mexico's second city from Miguel Hidalgo y Costilla International Airport, my 'contentment index' was sitting well into the upper end of the scale. When we drove down a sun-drenched, outer-suburban, tree-lined boulevard heading towards a junction, I sensed that a turn was coming up. Sure enough, the car swung into a space-constrained drop-off area outside the main entrance of a modern, five-star hotel. This was the InterContinental Presidente Guadalajara and without doubt, we had now arrived.
Not only that, but we were expected - another advantage of booking a hotel transfer. A few minutes later, we were getting to know our base for the next two nights, a spacious and comfortable twin-bedded Club Suite. I especially liked its bold, black-and-white décor, which proved that monochrome can be far less boring than the usual generic beige. The huge bathroom didn't go unappreciated either.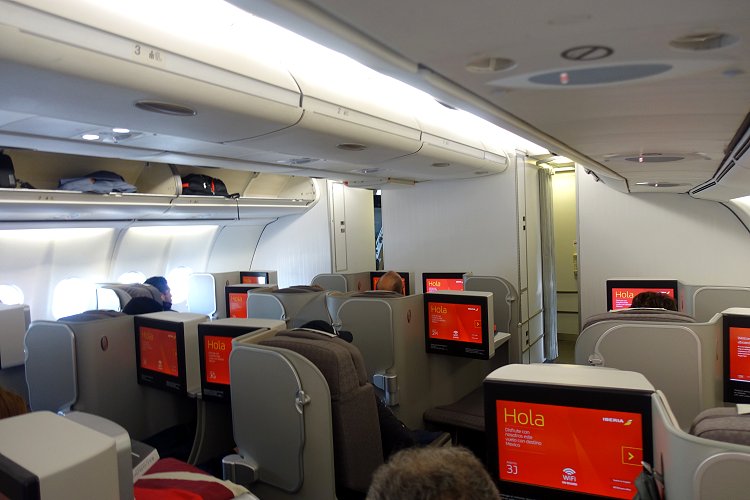 It was a good moment to pause and take stock. I had left Edinburgh three days previously, to fly down to London Heathrow and meet up with Bruce at the familiar location of the Hilton Garden Inn, Hatton Cross. Rather than heading into central London for the rest of the day, I had decided to stick around in order to finalise the details of our fast-upcoming Amtrak Adventure trip in May 2019. On Friday morning, we both flew to Madrid. Bruce spent the afternoon and evening working his usual Boston hours. My own sightseeing in the Spanish capital is shown under Short Trips 2019, alongside other Spanish destinations visited this year. The journey took a huge step forward on Saturday, when we flew Iberia to Mexico City and spent the night at an airport hotel. Finally, earlier today, we flew to Guadalajara on a lightly loaded AeroMexico 737-800.
After settling in, we walked to a shopping mall on the other side of the aforementioned tree-lined boulevard. We quickly found an unassuming local eatery selling authentic food for incredibly reasonable prices. It was busy with local people, but we were able to find a table and squeeze in. We started with a plate of four tacos each, two with carnitas (chopped meat) and two with lengua (tongue). These were served with guacamole, salsa, chopped onion, coriander and two spicy sauces. It was all very tasty. With the hunger pangs still not completely satisfied, we followed this up with gorditas buns ('little chubby ones'!), one filled with carnitas and one with chicharón (crackling).
This was plain, simple food in very basic surroundings - a far cry indeed from the nearby accommodation that we had just checked into. But it was also a thoroughly authentic and enjoyable local experience. And the total cost for two people, including bottled water, came to GBP6!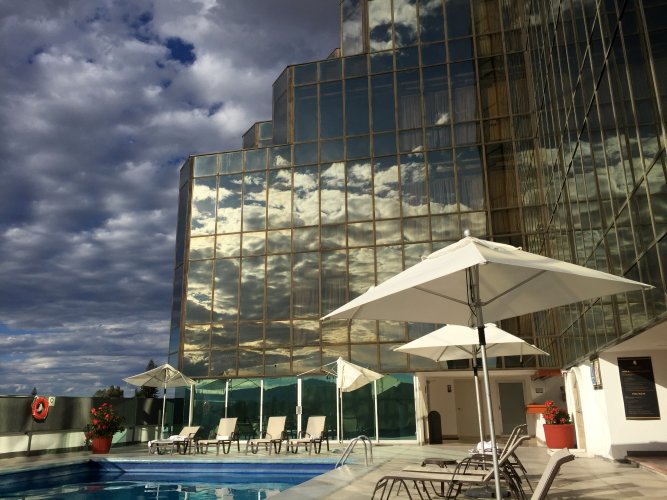 Back at the InterContinental, we spent what remained of the afternoon on the second-floor pool deck. It was very pleasant, apart from the presence of one idiot who would wear a large pool towel over his head and proceed to make long and loud cellphone calls under the cover it provided. What a weirdo!
Later, we went to the club lounge for canapés and drinks. The selection was limited, but nice enough. Sadly, the space itself had no ambience at all. After that, it was back to the room to watch the Oscars ceremony, with commentary in Spanish!