On to Puerto Vallarta
Today was set to be a nice, easy transfer day. We followed Monday's routine of throwing on the previous day's clothes for breakfast in the Club Lounge; then it was back to our suite to relax, take a shower and put on fresh clothes. With these essential tasks out of the way, and with the help of both the previous day's photos and Internet access, I managed to recreate Monday's exploration of downtown Guadalajara for the purpose of bringing my trip notes up-to-date.
But now it was time to move on to the next phase of the trip, which would see us remaining in the state of Jalisco, but based on the Pacific coast. A hotel car was waiting for us at 1230 and soon we were on our way back to the airport, through traffic that was noticeably busier than experienced on arrival on Sunday. Seen now from the perspective of a departing passenger, GDL was confirmed as a pleasant, modern airport. Check-in and Security were both a breeze. We were allowed to keep all of our hand luggage despite being due to board a propeller plane, suggesting that this was going to be a lightly loaded flight. I used my Lounge Club card - thanks, Amex! - to get us into the airport lounge. This turned out to be quite decent, and we managed to have an acceptable light lunch there.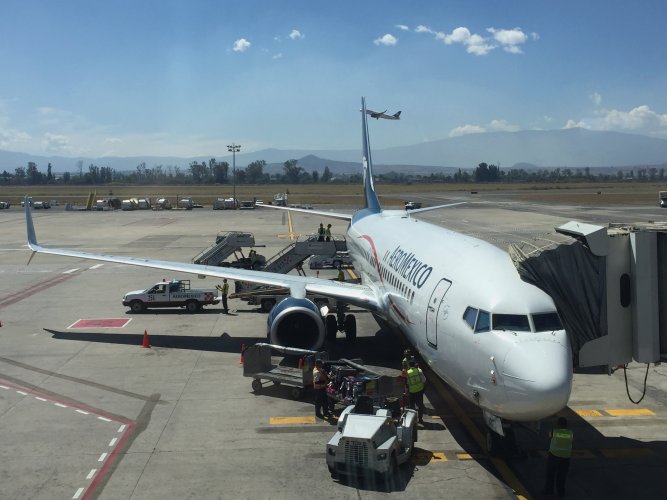 Our suspicions about the flight were correct: it carried a grand total of 17 passengers! It also arrived early into Puerto Vallarta, with the consequence that we had to wait for 30 minutes before being picked up by the transport arranged by our Airbnb host. We were glad that this was able to cope with most of the San Francisco-style hill up to our apartment, but there was no avoiding the fact that the final section - a long flight of stairs up to our front door - could only be negotiated on foot. We then spent at least half an hour getting settled into our new base for the next four nights: a spacious, two-bedroom penthouse apartment with fabulous views across the town and the bay.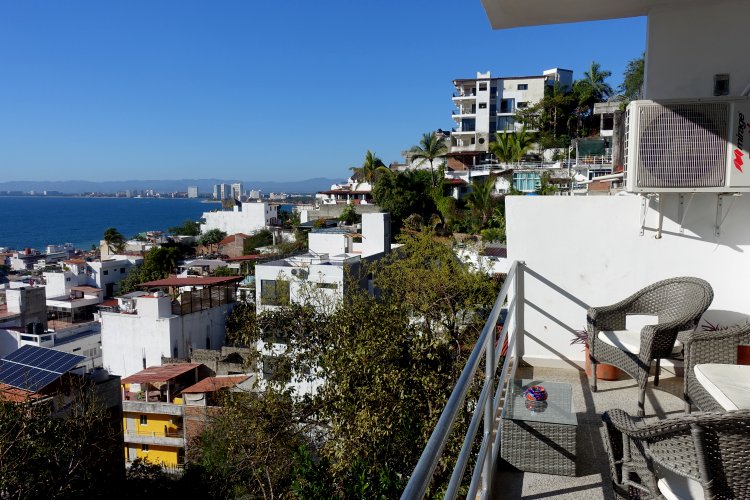 Once we had taken it all in, it was back to business; specifically, we're talking about shopping! Bruce made a list and we set off down the steps and then down the extraordinarily steep road, until we had reached sea level, where we found the local shops for this part of town. We spent around an hour assembling our supplies, and then took an Uber for the short, but otherwise exhausting, climb back up to the apartment.
A little reward was clearly called for after all that activity, so we decided to make a start on our complimentary tequila - yes, it came with the apartment rental! Bruce made a batch of fresh guacamole and we ate this with some tortilla chips from the supermarket. Then he got to work on a very nice Mexican dinner of quesadillas with fried chorizo. It was all absolutely delicious, but neither of us managed a full clearance.