Low-cost to Cologne
Following a mere five-and-a-half hours of solid sleep, I woke up at 4:30am and soon realised that the best I could hope for from there on in was a bit of intermittent light dozing. Part of me was amazed at the level of child-like excitement that a 'big trip' could still engender within me, and part of me was simply relieved that I hadn't yet become old and wooden, and jaded by it all.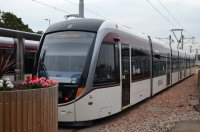 ABOVE: Although I had been a regular passenger on Edinburgh Trams since the May 2014 launch, this was the first time that they had featured in one of my trips.
Since there were no early-morning or late-evening flights involved either at the start or the end of the trip, I had decided to travel to the airport using public transport on this occasion, in order to save on unnecessary airport parking charges. The trip involved a local bus, a train and the still-new Edinburgh Trams line. While the end result of the latter venture seemed to me to be undeniably impressive, I felt that the development phase would probably live on forever as a case study on Project Management courses around the world, taking pride of place on the day when trainees considered 'How it can all go wrong'. Today, however, my journey to the airport was completed without a hitch.
Having dropped off my case for the hold - another one on its first journey! - I had an easy passage through Security. Finding myself in the relatively unusual position of being airside and not entitled to any lounge access

, I had a light and early lunch at Costa Coffee to pass the time before boarding my Germanwings flight to Cologne/Bonn.
Why Cologne? Regular readers will have seen many of my long-haul journeys get underway in seemingly random locations dotted around continental Europe, such as Barcelona, Gothenburg and Lisbon. This time around it wasn't necessarily about avoiding Air Passenger Duty and it certainly wasn't about taking advantage of the arcane rules of bmi Diamond Club, sadly now defunct. My intercontinental journeys for this trip were arranged many months in advance as a Lufthansa Miles & More redemption, and I had booked the long-haul departure ex-Frankfurt to keep the outbound route relatively straightforward and to keep my options open regarding the exact departure arrangements. Much nearer the time, when I knew that I didn't have any pressing time constraints, I had then decided to travel out to Cologne the day before: Friday 5 September.
(Link to flight log in side panel)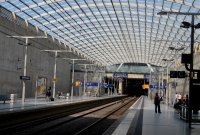 ABOVE: Köln/Bonn Flughafen station
Baggage arrived commendably quickly at Cologne/Bonn, putting to shame other recent experiences at my home airport in particular. Since it had been precisely 32 days since my previous arrival at this airport, I quickly and easily found my way to the station and succeeded in buying a ticket for the S-Bahn suburban train service, despite the clueless and selfish behaviour of two women who were travelling together, hogging both of the two ticket machines that were in service and getting nowhere fast with either of them. Still, it was all a vast improvement from the days prior to 2004 when a bus or cab into town were the only options.

I was on the train within a few minutes and realised exactly where I was when it called at Köln Messe/Deutz station. A short hop across the Rhine and I was in the familiar territory of the Hauptbahnhof, with the great Cologne Cathedral basically just next door! I easily found my way to the Marriott, where I asked for and received a one-hour extension of my check-out time the following day, so that I would be able to use my room until 1pm. I quickly settled in, adjusted my clothing to suit the pleasant, sunny conditions outside and headed back out for a reintroduction to this old haunt from several visits past.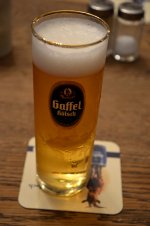 ABOVE: A 'rod' of Kölsch
- ah, that's better!
After crossing through the main station and having a very brief look around the outside of the cathedral, I realised that many hours had passed since my morning coffee-shop stop at Edinburgh Airport, and even since my minimalist lunch on the flight: I was beginning to feel very hungry indeed. I purposefully made my way to the Alter Markt ('Old Market') square and had a Schnitzel-and-Kölsch dinner at Gaffel Kölsch. It was good to rediscover Kölsch. This refreshing local beer, hoppy but not bitter, is served in small 0.2 litre cylindrical tumblers known as 'rods', and drinks are replaced as required by roving waiters carrying ten or more beers in specially designed holders known as 'wreaths'. The result of these traditional practices is that the beer is always fresh and cold, and a newly delivered measure never looks like it might be too much. These Cologne people know what they're doing, let me tell you!

After my early dinner, I continued strolling for a while through the old town area as far as the Heumarkt and the Deutzer Brücke, before heading back to the Marriott via the left bank of the Rhine, the cathedral precincts and the station. By this time the daylight had begun to deteriorate and my overly early awakening was starting to catch up with me.
Once back at the hotel, I exchanged a few texts with Bruce concerning actual and potential travel difficulties affecting the start of his journey, the second category comprising possible knock-on consequences of a Lufthansa strike on Friday for his Saturday morning Heathrow-Frankfurt flight. I watched TV for a while and then, with the thought that all of our carefully crafted arrangements were now in the lap of the travel gods, I surrendered to the intensifying impulse to fall asleep.