Return to the city
I had my usual free Hilton breakfast, which wasn't bad as buffets go, and somehow managed to arrange things so that I drove Cheeky out of the underground parkade at precisely 0930. Almost unbelievably, I had embarked on the final drive before the car would be surrendered back to anonymity and oblivion. Southbound traffic on Hwy 99 was moderate but free-moving until I reached North Vancouver, where there was a ten-minute delay for the Lion's Gate Bridge. It occurred to me as I crossed that at some indeterminate point along the span of the bridge, my latitude and longitude would have been precisely the same as at another fleeting instant on 29 August 2015, nearly one year previously, when I had been on board the Grand Princess as she sailed under the same bridge in dismal weather, bound for Alaska.
Traffic through the city centre and on out to the airport was busy and frequently reduced to a crawl, but I found my way without the slightest hitch, including a final fuel stop. On giving up the car, interestingly, the receiving agent was unable to give me a closing statement, saying that I would need to call at the office. Rather worryingly, the slip of paper that he gave me contained the printed message: Unable to close - please trace car! The desk agent put me at ease, saying that although I was on an unlimited-mileage contract, the hand-held devices used in the Returns area were programmed to reject the closing transaction if the distance travelled seemed excessive. Was this a comment on my itinerary?!

In any event, I was now without my trusty Jeep and would be relying on public transit for my remaining time in Canada. I bought a day pass and used the Skytrain system to reach my new hotel. It was only four stops, but required a change of train. The Canada Line splits into an Airport branch and a Richmond branch, and my station was one stop beyond the parting of the ways on the Richmond branch.


I easily found my hotel, noticing on arrival that it had its own airport shuttle. Travelling from the car rental centre, however, the Skytrain had effectively provided a door-to-door option. I completed the check-in formalities, had a minor reorganisation of my luggage and stored everything that I didn't need for the next few hours. I had a simple lunch in a local coffee shop, noting that the area seemed to be nearly 100% Chinese - it was almost like being in Hong Kong!

In due course, I took a Skytrain ride to Waterfront in very sunny and warm conditions. Once again, I couldn't help contrasting this with the dismal weather experienced in August 2015, when I briefly passed through the city. I decided not to stray too far during this first day in town; after all, I had all of the following day at my disposal. I began with a leisurely stroll through the public areas of the Canada Place cruise terminal and then, for the first time, walked along to the Vancouver Harbour Flight Centre, the operations of which give the waterfront so much of its distinctive character. For as long as I have been visiting the city, I have enjoyed keeping an eye on the harbour-based seaplanes. The landings are especially interesting. These usually start with an approach over North Vancouver, after which a combined U-turn and steep dive is executed, which straightens out and levels out just in time for a smooth touchdown on the water.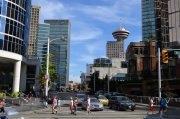 I watched the seaborne and airborne comings and goings for a while and, when I'd had enough, strolled through the eastern edge of Harbour Green Park and back to Waterfront Station. A Canada Line train took me back to the Aberdeen stop with a minimum of fuss. (The station is named after the adjacent Aberdeen Centre shopping mall.)
After a couple of hours of rest - not that I had been especially exerting myself on my Waterfront visit! - I used a free-drink voucher to get myself a G&T. A little later, I enjoyed a couple of 'small plates' that turned out to be larger than expected, these being corn chips with salsa, and some delicious duck wings. A glass of BC Pinot Noir proved to be a fine accompaniment to these surprisingly substantial snacks. Back in my room, I watched some TV and easily fell asleep when I eventually settled down properly for the night.